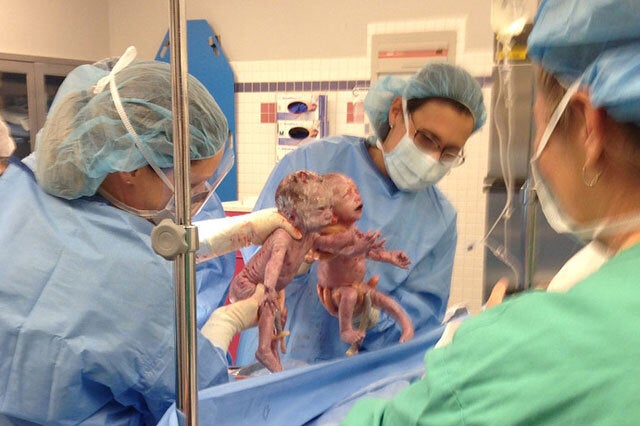 This is the incredible moment a set of twins were born holding hands.
Identical twins Jillian and Jenna Thistlewaite were captured holding each other's hands as they came into the world together in Akron Children's Hospital in Ohio.
The twins' mum, Sarah, 32, said: "I can't believe they were holding hands. That's amazing. They're best friends already."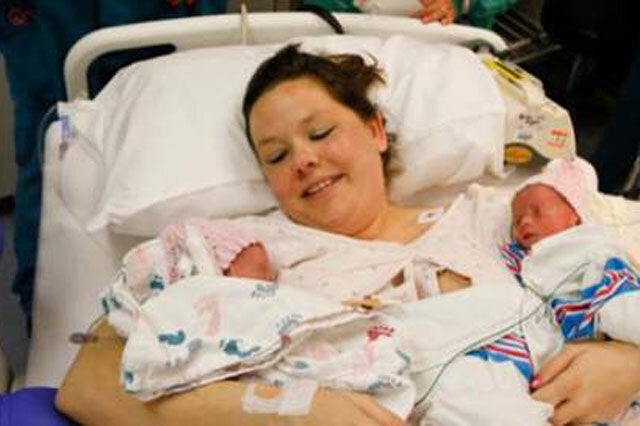 Jillian, 3lb, 13oz, and Jenna, 4lb, 2oz, are now off their ventilators and are breathing comfortably on their own, following their delivery via c-section.
"It's just hard to put into words how amazing it feels to know the girls are OK," added Sarah, who is married to Bill.
The twins had faced a difficult nine months as they were monoamniotic, which means they shared the same amniotic sac. Monoamniotic is a concern because babies' umbilical cords can become tangled due to their positioning. Before their birth, Sarah spent 56 days in hospital so the twins could be monitored.
Monoamniotic – also known as 'Mono Mono'- is estimated to occur in one in every 10,000 pregnancies.
Dr Melissa Mancuso from Akron Children's Hospital said Jillian and Jenna were among just a few amniotic pairs she had witnessed being born in more than a decade delivering babies.