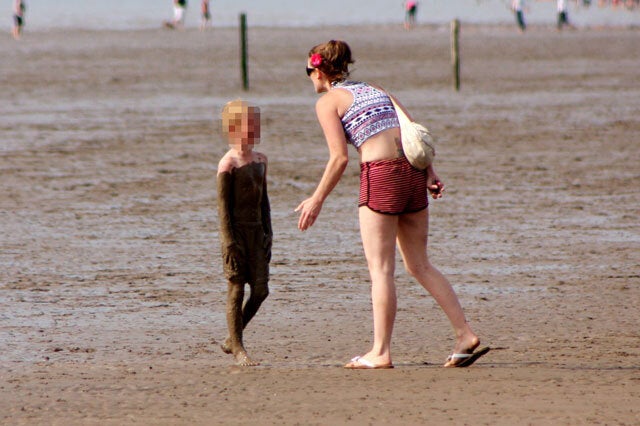 Up to his shoulders in mud, a young boy got a very public telling off from his mum after he strayed onto treacherous mudflats in Weston-super-Mare, Somerset.
You might think the sight looks comical as the furious mum wags her finger in the face of her crying son who looks like he was buried up to the neck.
But when you learn more about the context of this incident, you quickly realise that the mum's anger is more likely borne of fear for her son's safety rather than concern for her carpets.
For what looks like typical boyhood mischief could so easily have ended in tragedy.
Retired Roger Fry, 66, of Weston-super-Mare, who took the photos on Sunday, said: "I was on the beach when I heard this great ruckus. I looked around and saw this mother screaming at a kid. 'I told you not to go down there, you're filthy' and so on.
"Everyone stopped and looked around before the mother stormed off with some other children towards the car park.
"The muddy kid just followed on a little later.
​ "There is so many people that get stuck out on the mud every year that the mother must have been aware of the danger. There are plenty of warning signs around."
Those warning signs are there for a reason.
The incident happened a few miles from the spot where Lelaina Hall, five, died after getting trapped in the mud at nearby Berrow beach in 2002.
And the ever-present danger was underlined during the day as emergency crews were called out several times to reports of people stuck in the mud.
Three call-outs were for missing children, who were all located safely. A seven-year-old boy had to be checked over by an ambulance crew.
Last year, fire crews had to send a hovercraft to rescue five people after they became stuck in mud on the same beach.
Mark Newman, Chairman of BARB Search and Rescue – a charity that operates hovercrafts in the area – said the mud flats present a constant danger.
He said: "We had a very busy weekend attending incidents of people who had got stuck in the mud or had gone missing from families.
"It's a very dangerous stretch of coastline, that goes on for some way, and has strong currents and deep mud in places.
"People should always take care when going out to sea and be wary of the mud."