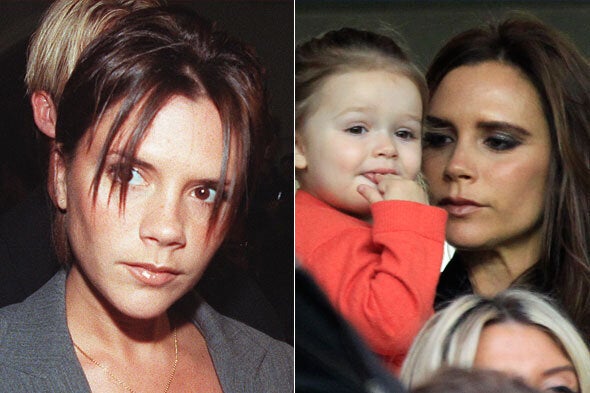 She'll be celebrating with husband David Beckham and their children Brooklyn, 15, Romeo, 11, Cruz, nine, and Harper, two, – who have reportedly clubbed together to buy their mum novelty gifts with their pocket money.
Victoria was in her early twenties when she first shot to fame with the Spice Girls in 1996 and she has undergone a very public transformation since.
We've seen her blossom from a slightly awkward young woman – who was too shy to smile - into a sleek and sophisticated working mum and respected fashion designer, whose clothes are worn by A-list celebrities, including Gwyneth Paltrow, Eva Longoria and Anne Hathaway.
(She also went through a misguided WAG phase, replete with fake tan and hair extensions, after marrying David in 1999, but we'll gloss over that - it is her birthday after all!)
Thanks to Victoria's thriving fashion business and David's success as a footballer and model, the family can afford to lead a luxurious lifestyle - flitting between their homes in LA, London and the south of France.
Not bad for a girl from Harlow!
However, despite their global fame, Victoria and David appear to have achieved the seemingly impossible - bringing up their children to be grounded and dare we say it - normal.
Brooklyn, Romeo, Cruz and Harper may be growing up in the celebrity spotlight, with paparazzi following their every move, but Victoria and David have refused to let this stop them enjoying family life with their children.
As they proved recently when they showered their children with a very public display of affection during a day out at an ice hockey game. Victoria draping her arm around Cruz and David giving Harper a big sloppy kiss.
It's not just on days off that Victoria puts her family first. Even when they're on the front row of a fashion show, the Beckham children are still allowed to be children - without worrying that they'll embarrass their high-profile parents. This was evident when David didn't blink an eye when Harper was snapped picking her nose.
"My life is very different than what people imagine it to be," Victoria once said. "It's always me who goes to Waitrose to do the weekly shop, Harper balancing on one hip, Brooklyn hanging on the trolley.
"I go down the aisles telling the kids, 'No, you can't have that', just like any other mother."
Don't believe her? Well friends and acquaintances have been quick to back her up. A former neighbour of the Beckhams called Adrian Weale revealed that, "the interesting thing about having the Beckhams as neighbours was how nice they were."
Victoria's celebrity friends have also given their endorsements to her parenting skills and even the notoriously hard to please Elton John has sung her praises:
"Victoria is a smart cookie," he said. "She's funny, she's fearless and she's a great mum. I love her."