You don't have to be a head-to-toe vintage bride to appreciate the allure of a vintage or vintage-inspired wedding ring. One-of-a-kind, unique jewellery pieces imbued with the history and charm of a past era, antique wedding rings are also renowned for their craftsmanship and are a more budget-friendly choice than their designer counterparts (designs start from roughly £500).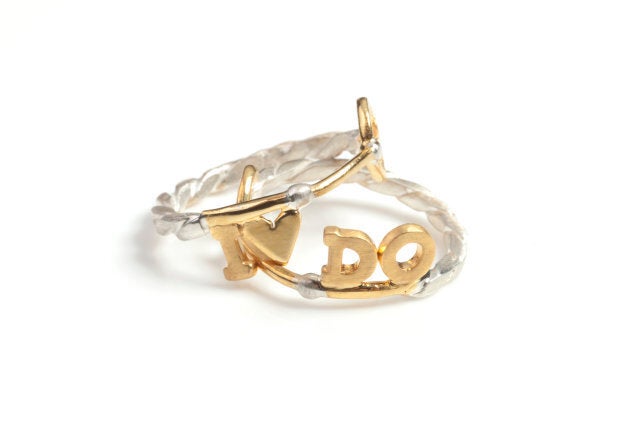 "Over the years we have increasingly seen individual taste come forward. Today choosing the most important rings of your life is not just about following fashion trends, but selecting a unique ring which reflects a couple's own personal style," says Paul Daughters, managing director of Hatton Garden's fine antique and jewellery shop, Berganza. "We are seeing more and more people turning to antique jewellery not only for its intrinsic value but also for the quality of workmanship, fabulous styles and rarity."
There's a wide variety of styles to choose from when it comes to vintage wedding rings. These include gold-band Posy rings, which date back to the 13th and 14th centuries and feature romantic inscriptions, guard rings with coloured stones (which spell out sentimental words like 'Regard,' 'Dearest,' and 'Adore'), Victorian cluster, solitaire and half-hoop diamond rings and the bold, geometric Art Deco designs.
You don't need to go scouring for antiques to get a gorgeous vintage-inspired band either. There's a wide array of choices available from independent and designer jewellers, who reinterpret your favourite vintage designs with a modern twist - just look at Jessica de Lotz's Victorian seal and oxidised-finish rings and Pip Jolley's bands made from 1950s-era vintage hair rollers.
Need some inspiration? Check out these 10 beautiful vintage design wedding rings in the gallery below.
Want to learn more about antique rings? Check out As Endless Is My Love As This: A History of Marriage Rings from Berganza