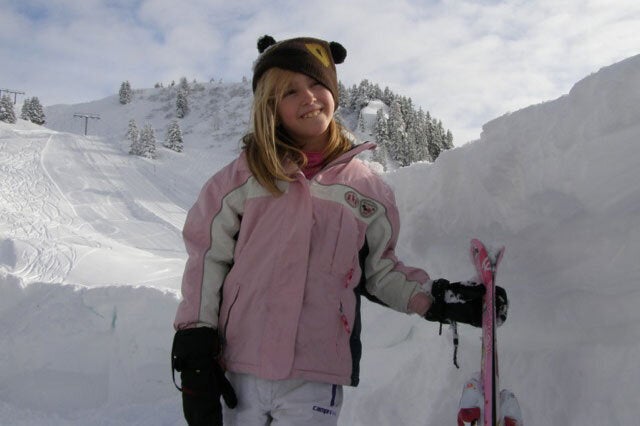 As the Winter Paralympics opens in Sochi this week, my daughter, Nancy and I will watch with vested interest.
Like London's incredible summer event, athletes with disabilities including visual impairment, loss of limbs and cerebral palsy will compete in various winter sport disciplines like skiing, para-snowboarding, biathlon, wheelchair curling and ice sledge hockey.
These athletes are at the top of their game and once again will prove to a watching world that determination is everything, however your body is equipped. Which is a trait my young (and eternally determined) daughter seems to have developed
Born nine weeks early, Nancy was diagnosed with hemiplegic cerebral palsy at 18 months old. In that first year, I was given little assurance that Nancy would walk, let alone be able to partake in sports. My darling girl took her first steps the summer she turned four, started horse riding at five and at the grand age of seven took to the slopes for the first time.
Last year, I took Nancy to Villars-sur-Ollon in the Swiss canton of Vaud, a small, chocolate box ski resort 90 minutes from Geneva airport. With 80 miles of smooth, wide pistes suitable for beginners and intermediate skiers, thanks to its accessibility and disabled-friendly facilities it has become renowned throughout Europe as the place for disabled skiing.
Before our trip, in a phone call organised by Crystal Adaptive (the specialist arm of Crystal Ski), I spoke to Marc-Henri Duc, director of the Ecole Suisse in Villars, about Nancy's disability. An essential part of planning is to discuss your child's condition with the ski school. This gives staff an idea of what skills or equipment or both are necessary and enables them to match instructor to your child.
There are two ski schools in Villars that cater for people with disabilities; Ecole Suisse and Handi Concept, a not-for-profit organisation that offers winter and summer sports instruction for disabled adults and children.
Ecole Suisse has 15 instructors experienced in teaching skiers with special needs, including Chris Smith, an expert in skiing for the blind, and the lovely Florence Barillon, Nancy's instructor for the weekend, who has years of experience with skiers with cerebral palsy.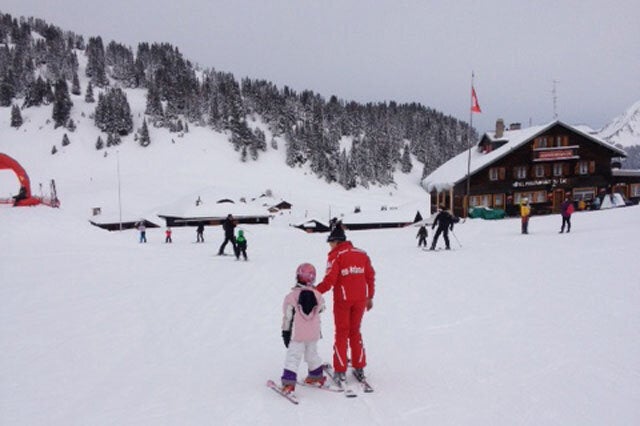 At both schools, the price of private instruction is the same for disabled skiers as it is for the able-bodied – from around £44 an hour. Specialised equipment such as the sit ski, tandem-ski or dual-ski costs an extra £7 at Ecole Suisse; at Handi it's included in the tuition.
I was concerned that Nancy might not be able to cope with ski lifts and part of the reason I chose Villars was because of its mountain train access to the slopes. The cogwheel line between Villars and Bretaye links the town to the ski fields and has been chugging skiers up the mountain since the 1930s.
If I'm honest, I wasn't sure exactly how successful Nancy's first lesson was going to be and secretly expected a teary Bambi-on-ice scenario. But Florence had a gentle approach and heaps of patience and Nancy took to her immediately.
i
​Two hours later, when my girl snow-ploughed slowly towards me with the biggest grin on her face, I promptly burst into tears.
i
We stayed in the Eurotel Victoria, a comfortable, family-friendly hotel with a good pizza restaurant and an on-site swimming pool. There's a free bus that trundles around the town which made it easy to transport two sets of skis and an excitable seven-year-old to the cog train station each morning. Most of the hotels in Villars cater for disabled visitors and many of the town's restaurants and bars are fully accessible to wheelchairs.
While Nancy was in Florence's safe hands, I grabbed the rare opportunity to hit the slopes myself and enjoyed quiet pistes, swift lifts and breathtaking views across the Swiss Alps.
A morning of skiing was plenty for Nancy and it meant our afternoons were free for sledging, snowball fights and building a veritable army of snowmen.
While she's a little off qualifiying for the next Winter Paralympics, Nancy's first ski trip has given her an incredible confidence and even more determination to try out new things. The accessibilty of Villars combined with the understanding of Florence and Ecole Suisse means that future family ski holidays are now a reality rather than a pipe dream.
For more information on Villars-sur-Ollon and the surrounding area, visit www.villars.ch