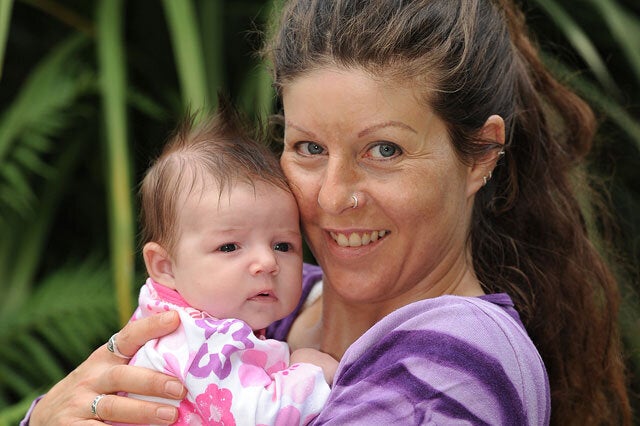 A widow has had her late husband's baby two years after he died.
Karen Steer, 41, fulfilled her promise to her dying husband John when she became pregnant using his sperm, which had been taken when he was terminally ill with lung cancer.
Karen conceived on her fourth attempt at IVF, and gave birth to baby girl Johren in May.
Karen told the Express: "I'm so glad I kept my promise to John. When he died it felt like I had lost him for ever but now thanks to our baby it feels like I have a part of him back.
"I cannot tell you how lucky I feel. When they placed her on my chest I fell in love immediately. She looked so much like her father with her mop of black hair and dark brown eyes."
Karen and farm manager John had been together for 18 years when he was diagnosed with inoperable cancer in 2010.
He was told that he had between two and six months to live.
Karen, from Swindon, Wiltshire, said: "We thought we had all the time in the world to get married and have a family. It was too much to take in."
They hastily arranged their wedding and got married after a 15-year engagement in September 2011.
John died a week later at the age of 43.
Recalling the moment she found out she was expecting John's baby, Karen said she took her husband's ashes to the bathroom while she took a pregnancy test.
She said: "I just started to laugh and looked over to John's ashes. I could not believe we had done it."
Karen has named her daughter Johren, a combin­ation of their forenames.
She said: "When John died I didn't think I could feel happy again but thanks to the incredible gift he left me I have not stopped smiling.
"When she smiles her whole face smiles and I know John is with us."