THIS COMPETITION HAS NOW CLOSED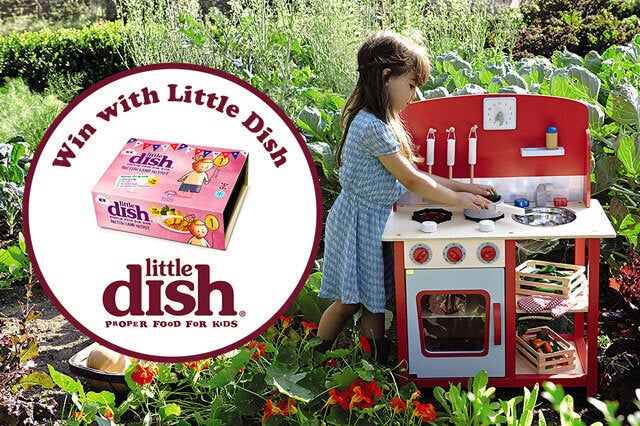 Little Dish's nutritious and tasty meals for kids are perfect from age one plus. So this summer the brand marks the occasion of Britain's most famous first birthday - aka Prince George's birthday - with the launch of a new British Lamb Hotpot, a little dish fit for a prince.
To celebrate, Little Dish has teamed up with Great Little Trading Co to offer Parentdish readers the chance to win a beautiful Carnaby wooden play kitchen.
Complete with clicking dials, wooden utensils and a shiny removable sink, it's sure to provide your little ones with hours of fun as they start to explore proper food for the first time.
This fantastic prize will also include £25 worth of Little Dish meal vouchers to give mum and dad a helping hand, plus a Little Dish cook book, limited edition Royal first birthday mug and more.
Little Dish's new British Lamb Hotpot blends succulent minced lamb with red lentils in a wholesome vegetable sauce, topped off with a crown of sautéed potatoes. Made from 100% natural ingredients, with no added salt or sugar, it also provides two of a child's five a day.
Funds raised from the proceeds of the new meal will help Little Dish's charity partner Kids Company provide three thousand hot meals each week for hungry children.
Find Little Dish's British Lamb Hotpot in its range of thirteen meals in the chilled meals aisles of Waitrose, Asda and Tesco and online at Ocado RRP £2.50 per meal (200g).
Happy birthday Prince George!
Two lucky winners will each receive:
A Carnaby Wooden Play Kitchen (worth nearly £100)
£25 worth of Little Dish meal vouchers
A Little Dish recipe book
A first birthday mug (in honour of Prince George)
A place mat and spoon set
For your chance to win, enter your details below before 10am on August 8.