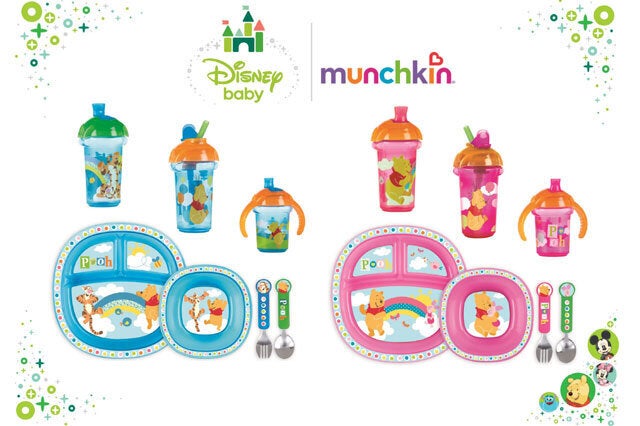 THIS COMPETITION IS NOW CLOSED
With Munchkin's Disney Collection for Babies range, your little one can dine with their favourite Disney friends!
The range features a selection of cups and dining sets, available in assorted colours and designs, from Mickey Mouse, Minnie Mouse, Monsters Inc., and Winnie the Pooh.
All of the Disney Baby cups feature the company's innovative Click Lock™ technology, which means they come with a 100% leak-proof guarantee. With a Munchkin Click Lock™ cup, you're able to see, hear and feel the cup lock into place, so you have triple assurance against dribbles and drips.
Available in five different designs, you could win all three of the enchanting cups; a Click Lock™ Trainer Cup, a Click Lock™ Spill Proof Cup, a Click Lock™ Flip Straw Cup as well as a Disney Dining Set.
Munchkin is available in Asda, Tesco, Boots, Morrisons, Kiddicare, Mothercare, Toys R Us, Argos, Wilkinsons and other quality retailers, both in store and online
Each winner will receive the full set of Click-Lock Cups and Toddler Dining Set in a design of their choice.
10 lucky winners will each receive:
1 x Click Lock™ Trainer Cups 8oz./237ml. (RRP £3.99)
1 x Click Lock™ Spill Proof Cup 10oz./296ml. (RRP £3.99)
1 x Click Lock™ Flip Straw Cup 10oz./296ml. (RRP £3.99)
1 x Toddler Dining Set (RRP £8.99)
Winners can choose one of the following Disney designs: Minnie, Mickey, Winnie the Pooh (in pink or in blue) or Monsters inc.
For your chance to win enter your details below before 10am on July 25