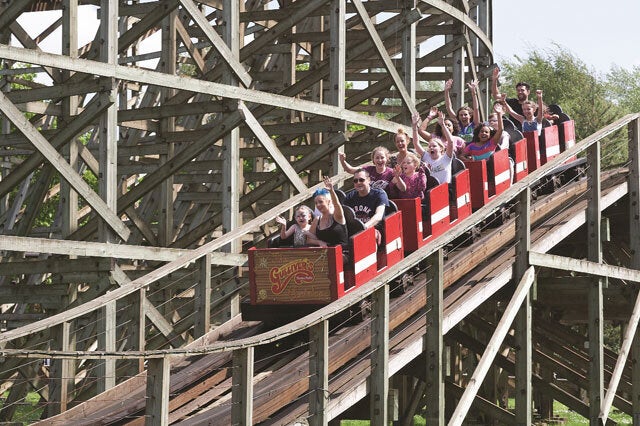 THIS COMPETITION IS NOW CLOSED
Gulliver's theme parks offer the hottest ticket for fun-loving families this summer!
We've teamed up with them to give away a family ticket for a bumper day out at one of their theme park locations – either Warrington, Matlock Bath or Milton Keynes.
Magical memories are created every day at Gulliver's, which is specially designed for children aged two to 13. So it doesn't matter if you've got toddlers or bigger kids in tow, there really is something for everyone to explore and enjoy!
From theme park classics like the rollercoaster, log flume and dodgems, to a host of weird and wonderful rides and attractions, you'll discover something new every time.
New for 2014, you'll find Laser Dodgems, The Princess Ride and Gully's Big Cheese Adventure at Gulliver's Warrington; Albert's Rocket Ride and Dino Falls – a set of giant waterslides built into the hillside for a wild ride with spectacular views – at Gulliver's Matlock Bath, and an exciting new spinning coaster at Gulliver's Milton Keynes!
With free parking all day, every day, and a host of soft play areas, interactive shows, activities and entertainment on offer too, there's more to Gulliver's than meets the eye.
And it's not just theme park thrills on offer at Gulliver's – each resort is also home to other captivating attractions, including the Warrington hotel, Milton Keynes campsite and Dinosaur & Farm Park, SplashZone at Warrington and Milton Keynes, a Spy Zone at Matlock Bath and a new Nerf Zone at every location.
Five lucky winners will each receive a family ticket (for two adults and two children) to one of the Gulliver's theme parks - either at Warrington, Matlock Bath or Milton Keynes. Tickets will be valid until August 31.
For your chance to win, enter your details below before 10am on July 25.