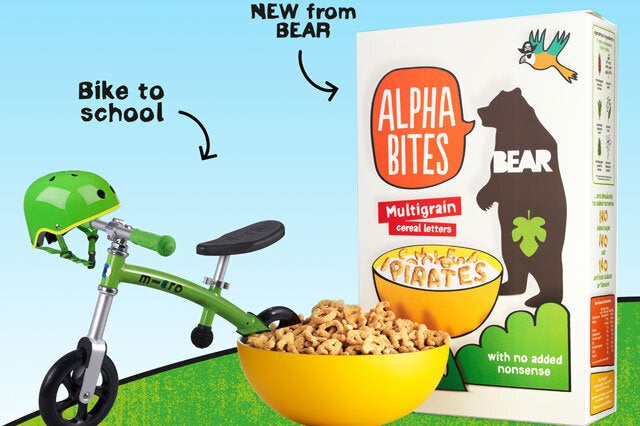 THIS COMPETITION HAS NOW CLOSED
Get your paws on grrreat prizes from BEAR with a month's supply of healthy 'Alphabites' breakfasts for the whole family, plus a super Micro Scooter for your kids to scoot along to school on.
BEAR's NEW 'Alphabites' are crunchy cereal letters that spell goodbye to breakfast growls - made from five tasty multigrains and BEAR's special ingredient, coconut blossom nectar, they contain no refined sugar, added salt or any other nonsense.
Found in the flowers of the coconut tree, coconut blossom nectar is naturally high in calcium, to help build strong grrrowing bones. It's also low GI, meaning an end to those grizzly sugar highs and mid-morning sugar crashes.
After fuelling up on BEAR Alphabites for breakfast, the whole family can hop on to their Micro Scooters to enjoy a fun, hassle free and thrilling outdoor scooting adventure.
Micro Scooters now provides scooters for adults as well as children, and they all come with the Swiss engineering, quality and robustness you expect from Micro Scooters.
BEAR Alphabites are now available in Sainsbury's, Waitrose, Asda, Ocado and Amazon. For more fun and adventures, check out BEAR's Facebook page.
One lucky winner will receive a Micro Scooters balance bike and accessories worth £150, as well as £50 worth of BEAR Alphabites cereal.
Two lucky runners up will also receive £50 worth of BEAR Alphabites cereal.
For your chance to win, enter your details below before 10am on May 30.