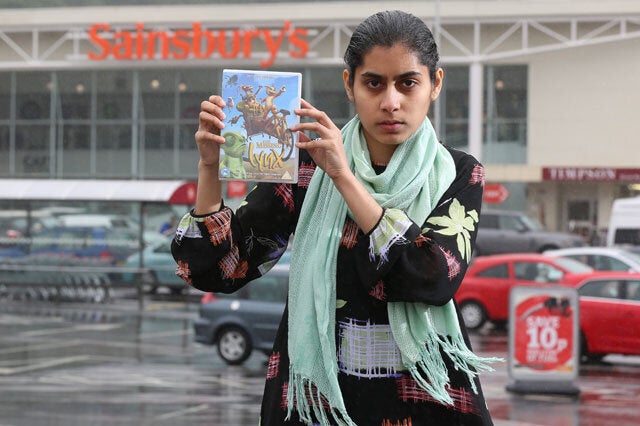 It's true that the film in question - The Missing Lynx, an animated comedy starring Antonio Banderas - features some scenes which 'may be unsuitable for younger children'. But, being 24, Neera Ishak thought she could handle it. Unfortunately, staff at her local Sainsbury's didn't seem to agree.
Neera told the Daily Express that she picked up the DVD, as well as another kids' film with an even more innocuous 'U' rating at the Sainsbury's store, in her native Sheffield, after a stressful day when her bus failed to turn up.
Rather than cheering herself up with the colourful comedies, she was reduced to tears after a drawn-out drama over age classification ended with her leaving the store empty-handed.
Neera was putting her purchases through a self-checkout when the DVD barcode triggered a warning screen, used for age-restricted items like alcohol and knives, which halts the transaction until a member of staff can verify the customer's age.
Astonishingly, the staff member who then approached Neera demanded to see her ID. Baffled, Neera explained that she wasn't carrying any identification except her bus pass, and was told she could not purchase the item.
"I could see the message and it said check ID for 12, 15 or 18, not PG," she recalled. "The lady said to me, 'no, this is a 12', because she was reading a message on the box about viewing with parental guidance.
"I tried to reason with her, but she called over another lady and they started reading from the back of the box."
Staff gathered around the customer service desk to pore over the DVD, but 'even the manager didn't understand', said Neera, who was left in tears of frustration and confusion over the palaver.
Sainsbury were quick to offer up their apologies for the embarrassing gaffe. "We obviously apologised to Neera and we've also re-trained our colleague to make sure we get this right in the future."
Neera says that when she asked the store worker if she watched films, she said 'no' - so perhaps a few corporate cinema outings might be in order.