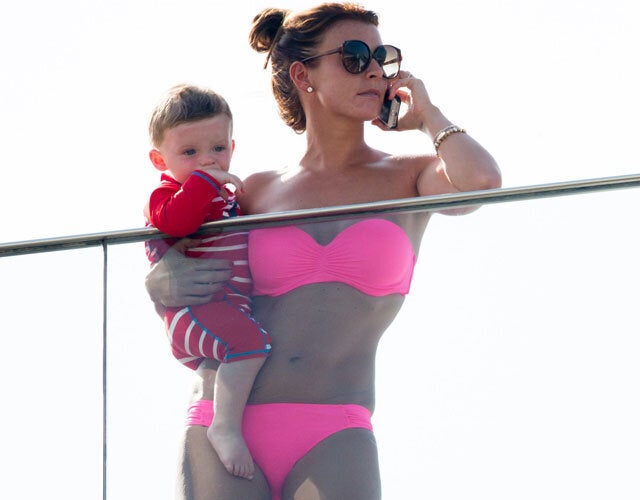 Coleen Rooney arrived in Brazil to a Twitter row after she was accused of dragging her two young sons to the World Cup – and of taking too much luggage!
The 28-year-old wife of England striker Wayne was pictured touching down in Rio De Janeiro with her parents, children Kai, four, and Klay, one, and 15 cases of luggage.
But as soon as she arrived, she was attacked by trolls on Twitter, with one user, Ash McFadz ('a girl who actually understands football') writing: "Dragging a 4 year old and a baby half way around the world...just so you can get another holiday."
But Coleen was having none of it, and she hit back with: "Why are people so thick!!! so we can support and see our daddy/husband."
Later, Coleen took to Twitter to defend her luggage haul.
She insisted she had to bring extra gear to last until July 13 – in case England reach the World Cup Final (eternal optimist, as she is!).
She wrote: "There are more people in my party than me and the kids.... Nappies, formula milk, toys, bottles, wipes.Apart from that, am here and it's lovely!! So excited!!"
She added: "And a lot of clothes to stay to the end of the tournament!! I have faith and support my country!!"
The family have jetted over to join England striker Wayne.
England fans are praying that their arrival might coax a match-winning performance from the lacklustre striker in the do-or-die match against Uruguay on Thursday.