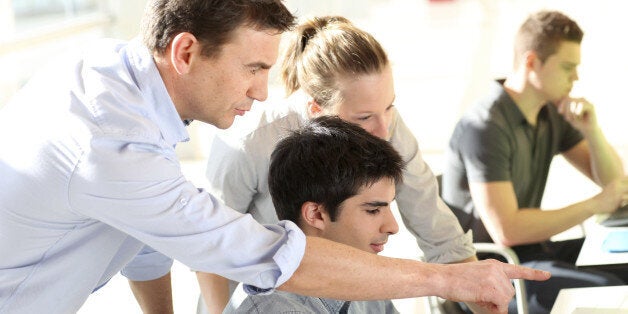 Students are applying to universities to please their teachers and parents, even though they don't want to go, prompting businesses and employers to demand a career advice tsar.
Tim Campbell, winner of the BBC's first ever series of The Apprentice and founder of the Bright Ideas Trust, says schools need an idea of what good careers advice is.
"We need a careers advice tsar," Campbell told the Huffington Post UK. "We need someone to hold fingers in the fire if schools aren't giving career advice."
Ollie Sidwell, co-founder of Rate My Apprenticeship believes school structure simply isn't set up for it.
"Parents and teachers know very little about alternative options we have to completely change their perceptions."
The comments came as students sitting on a panel assembled to debunk apprenticeships myths warned of the dire lack of unbiased career advice in schools.
"My teachers didn't understand apprenticeships at all," recounts Alice Bercher, a higher apprentice at Jaguar Land Rover. "I was one of the few students doing A-levels at my school so I was expected to go to university. I applied to please my teachers.
"Now I go back to my school to talk and my teachers love it because I've opened another door for the students."
Campbell's experience isn't an isolated one. Melisa Samuels, a project management office apprentice at CapGemini said she applied to please her mum and teachers.
"They said I could go to university so I should and my mum thought I was making a really silly move by not going. But I'd advise students not to focus your career around other people.
"Our school library had a brochure on every university you could think of. But nothing on apprenticeships."
Rebecca Page, an audit trainee at BDO, says her school didn't offer any support. "I didn't know anyone else who wanted to do an apprenticeship. My careers advisor didn't even mention they were an option. It was university or nothing."
Page only found out about apprenticeships after meeting a school leaver during her first year of university. She then decided to drop out and apply.
"A lot of my friends are struggling for jobs so now they understand why I did this, whereas they didn't at the time."
And schools aren't making it any easier for businesses either.
"It is a challenge to find the right person in the school to liaise with if you want to go in to give a talk," Liz Noble, head of assistant manager of Ernst and Young's student recruitment programme, says. "Some schools just have no interest in us being there.
"The process needs to become more standardised. Partnerships should be formed between schools and employers so students can benefit."
Sidwell agrees, adding: "Peer to peer sharing has worked well but some schools aren't as receptive as they should be."
Recent research showed 99% of apprentices would recommend their scheme to a friend, while 98% stay on with the company after their programme has finished.
"Being part of a business for three years is arguably better than a degree," Sidwell adds.
There's a common consensus change is imperative if careers advice is going to improve.
"It's imperative parents are educated about apprenticeships," Campbell says. "If we get it right with businesses we catch the parents too. Most people forget parents are business employees too.
"It's about re-educating those who believe in the old school view of apprenticeships, where they are deemed as a second class route if you weren't bright enough for university."
Noble is an advocate of a UCAS-style system for alternative options, to combat the current way of ranking schools by university destination.
"For university courses the UCAS system means students can access information easily. Why isn't there something like this for alternatives routes?"
UCAS has, however, welcomed an invitation for talks promoting higher apprenticeships, after business secretary Vince Cable called for the integration of higher level apprenticeships into the company's services.
BIS has been contacted for comment but has not responded.
Popular in the Community