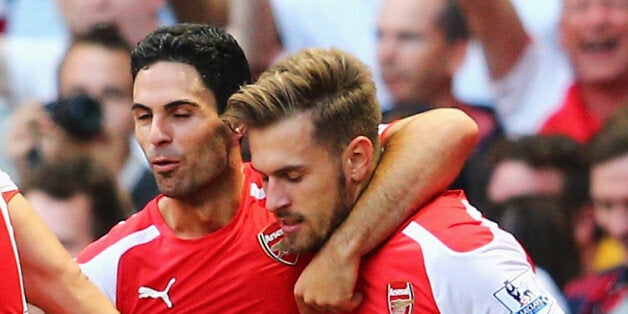 Their supporters didn't sing his name, but for 90 minutes Crystal Palace paid a touching homage to Tony Pulis. They were organised, committed, determined and Julian Speroni's time-wasting provoked jeers before the half-hour mark. Then Jason Puncheon undid all that good work.
The winger's scything challenge on Nacho Monreal earned him a second yellow card in the 89th minute, a defensive mix-up between Brede Hangeland and Mile Jedinak moments later gifted Arsenal a corner, Speroni denied Mathieu Debuchy but that arch goal-getter Ramsey tapped in a 91st minute winner.
Keith Millen, in caretaker charge against Arsenal for the second time in a year, patrolled the technical area offering quiet words of comfort whereas Pulis could be heard from the Highbury flats. Last year, Palace resembled a Championship, rather than a Premier League, side when Arsenal's defeated Millen's men at Selhurst Park. All grit, no guile and nothing to show for it. Ten months on, even without the dearly departed Pulis, they should comfortably stave off relegation but again earned nothing from a battling display against the Gunners.
Arsène Wenger might argue the manner of Arsenal's victory was the hallmark of champions, but were it not for Puncheon's intervention they almost certainly would have drawn this match. Their approach was too predictable and Alexis Sánchez was too peripheral; Manchester City and Chelsea will not be concerned.
Despite an FA Cup, Alexis Sánchez and a hammering of Manchester City, the atmosphere inside the Emirates Stadium was as moribund as the barren years. Arsène Wenger could have ball-juggled his way from the halfway line and it would have made little difference to these notoriously demanding supporters. Even Aaron Ramsey drew their ire, as well as Yaya Sanogo, during an insipid first-half.
The team's football was not particularly crowd-pleasing. Wilshere finally drew an awkward save from Speroni in the 29th minute but Palace were confronted by the Arsenal of the school of sterile domination. Sánchez was, again, too wide to truly effect the game, Cazorla was underwhelming on the other flank and Sanogo was his usual hapless self.
Fraizer Campbell was causing some commotion up the other end in an ongoing and entertaining battle with Calum Chambers. The teenager acquitted himself reasonably well however Wojciech Szczęsny did not when he rashly cleared straight to Marouane Chamakh, whose audacious effort was blocked by Laurent Koscielny before Campbell's tireless effort earned a corner. Debutant Hangeland rose at the near post to nod in from Jason Puncheon's inviting set-piece in the 35th minute.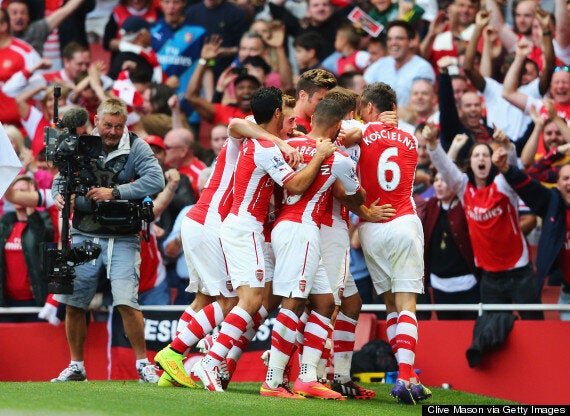 Arsenal players celebrate Aaron Ramsey's stoppage-time winner
"Who needs a manager?" hollered Palace's fervent supporters. They could only enjoy the advantage for 10 minutes, though. Thousands of home supporters had fled to the concourse by the time Koscielny snuck in behind a dithering Hangeland to equalise in added time. Pulis, especially, would have hated conceding from a set-piece.
Campbell, Puncheon and Yannick Bolasie could emerge as one of the more vibrant mid-table three-pronged attacks. Arguably more impressive was the maverick Chamakh, revitalised by Pulis last season, in the No.10 role.
Sanogo was, inevitably, put out of his misery when Olivier Giroud replaced him in the 62nd minute. It's 16 first-team games without a goal for the 21-year-old striker and Arsenal's bluntness for open play just might reignite the fans' clamour for another striker. Sánchez, ostensibly, will alleviate the burden on Giroud however even with Theo Walcott and Lukas Podolski, they are not credible options up front.
Sánchez faded into anonymity after the pause. Arsenal persisted through the middle and Cazorla was encouraging the odd attack down the left. The Chilean's decision to join him signalled desperation as much as determination as Arsenal fans became increasingly agitated with Palace's apparent gamesmanship. It took a Palace player 77 minutes to soften Sánchez up when Martin Kelly chopped him down and the forward's response was two overhit crosses in as many minutes.
Then Puncheon committed his transgression and Ramsey punished him.