Alastair Cook credited his wife for England's drastic Test turn-around against India as they wrapped up a series win on the third day at the Oval.
Only three weeks ago, several former England captains called for Cook to resign the captaincy after a disastrous Lord's defeat to an underwhelming India side.
Cook admitted after England's innings and 244-run victory in the fifth Test he was on the brink of walking away, but after speaking to his wife in mid-June he decided he would not, after all, go quietly.
More distress followed with a landslide defeat at Lord's and 1-0 deficit in this series, while his quest for a 26th Test century has extended to 31 innings and will now not end until the Caribbean next April at the earliest.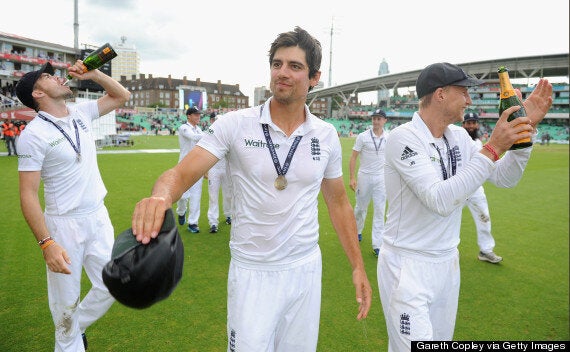 England won their first Test series in nearly a year at the Oval
"(It was) the support I had from my wife," Cook said when asked what galvanised England's revival. "You can bare your soul quite often to Alice, and she's very good at getting me back on the straight and narrow.
"But that fourth night was a tough moment. We'd let a winning position slip and Lord's was very tough as well, losing there in conditions very suited to us and winning the toss for a big advantage.
"But I'm quite stubborn; I believe in my ability, and I'm quite a resilient guy - and that was when I needed it most."
The culmination is a much-needed series victory for Cook and returning coach Peter Moores' new era, which was concluded as Root completed an unbeaten 149 on the third day and final day of the fifth Test and then Chris Jordan's career-best four for 18 helped hustle hapless India out for only 94.
"I'm glad I stuck through the tough times," said Cook. "That's what sport does, tests your character, and to bounce back as a team is a testament to us.
"I don't play this game to prove people right or wrong. I never have. I do it to try to win games of cricket for England, and do my best at all times.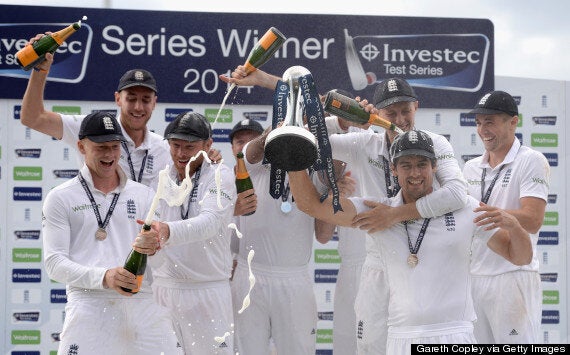 England will attempt to regain the Ashes from Australia next year
"So I'm not going to be sitting here gloating, that's not who I am. I'm here because I believe that I am the right man to try to lead this team forward.
"I'm very, very privileged to be England captain. It's a great job to have - even through the tough times.
"You walk out every morning, and you have the name - 'here comes the England captain'.
"When that's your name, you do it for such a short period of time in your life, you have to hold on to it as long as you can - and give everything."
Related