Pope Francis has endorsed international action against Isis jihadists in Iraq, saying it is "legitimate to stop the unjust aggressor."
The leader of the Catholic Church stressed that it should be a joint effort by the international community to stop the radicals who have swept through north and western Iraq, targeting Christians, Shia Muslims and minority sects like the Yazidis.
"In these cases, where there is an unjust aggression I can only say that it is legitimate to stop the unjust aggressor," the Pontiff told reporters on the plane from South Korea, according to Reuters.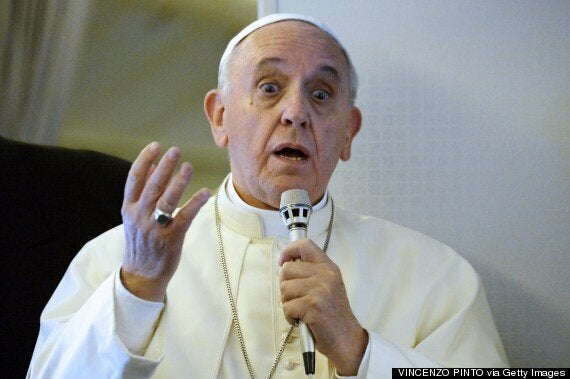 Pope Francis gives a press conference aboard the plane carrying him back to Rome at the end of a five-day trip to South-Korea
Pope Francis said it was not intended to be an endorsement of a military campaign, but said a concerted response was necessary. "I underscore the verb 'to stop'. I am not saying 'bomb' or 'make war', but 'stop him'. The means by which he can be stopped must be evaluated. Stopping the unjust aggressor is legitimate," he said.
"One single nation cannot judge how he is to be stopped, how an unjust aggressor is to be stopped," he added, endorsing the United Nations as the body who should decide. "Is there unjust aggression? It seems so. How do we stop it?" he concluded.
Francis sent his personal envoy, Cardinal Fernando Filoni, to northern Iraq last week with an undisclosed amount of cash to help people flee their homes.
Francis told reporters he had considered going himself but had decided not to. "At this moment, it would not be the best thing to do but I am willing to do it," he said.
In a strongly-worded attack on David Cameron's handling of the crisis in Iraq - backed by the Archbishop of Canterbury - the Bishop of Leeds said "many" senior clergy were seriously concerned.
The Rt Rev Nicholas Baines has written to the Prime Minister questioning whether there is any long-term strategy and criticising a "growing silence" over the fate of the plight of persecuted Christians. In particular he raised questions about ministers' failure to respond to calls - including through parliamentary questions - to set out what arrangements would be made to offer asylum in the UK.
Despite appalling persecution, they seem to have fallen from consciousness, and I wonder why," he said. "Does your government have a coherent response to the plight of these huge numbers of Christians whose plight appears to be less regarded than that of others? Or are we simply reacting to the loudest media voice at any particular time?"
Decrying the lack of response to repeated appeals for asylum provision to be made for Christians, and other minorities, he said that in contrast to France and Germany there had "so far been only silence from the UK Government".