José Mourinho lauded Cesc Fàbregas' superb debut for Chelsea after the midfielder inspired their 3-1 win at Burnley.
After three years in Barcelona, Fàbregas returned to the Premier League on Monday night and instantly looked at home in Mourinho's side, who looked very much like title contenders.
The Spain midfielder set up André Schürrle with a perfectly-weighted pass and he also had a hand in each of Chelsea's other two goals, scored by Diego Costa and Branislav Ivanović.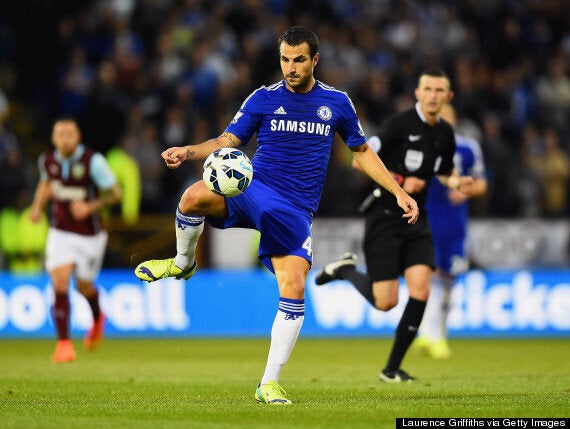 Fàbregas played a key role in all three Chelsea goals
Watching the £30 million signing dictate a high tempo and put in tackle after tackle, it was hard to think why Arsenal, and Manchester United in particular, passed up the opportunity to sign the 27-year-old Catalan, who was given the man of the match award for his efforts.
Afterwards Mourinho praised Fàbregas for providing him with the creativity and drive that was sometimes missing from the Chelsea midfield last season.
"I think the team played very well but I agree with Cesc being the man of the match because him and (Nemanja) Matić they controlled the game," the Chelsea manager said.
"Those two dictated the intensity of the game. They are both good brains in this team and I am happy with that because probably last season we couldn't control the game the way we did today.
"In the last 10 years, Cesc and I were in the same league for six or seven years so I know what he can bring to this team.
"He makes the right decisions, the right intensity of the game and he brings other people in the right direction. I am really happy with him."
Fàbregas was one of four summer signings to feature in a new-look Chelsea team now shorn of the likes of Ashley Cole and Frank Lampard.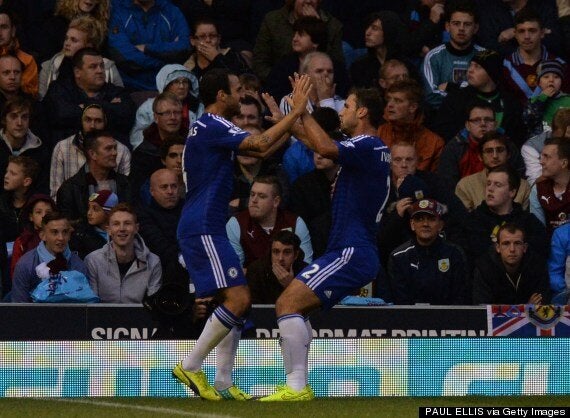 Fàbregas celebrates with Ivanović after the Serbian's goal
Costa was a constant menace to the Premier League newcomers all night and he got on the scoresheet with a poacher's effort from 12 yards.
Fàbregas then cushioned a perfect pass into the path of Schürrle to cap off a 25-pass move before Ivanovic met the Spaniard's corner to make it 3-1 in the 34th minute.
Mourinho was happy with how his team responded to Scott Arfield's opening strike, and he found Chelsea's second goal particularly pleasing.
"Everything was fantastic, the movement and the quality of the pass and the vision and the understanding between them was beautiful," the Portuguese said of Schürrle's goal.
"Emotionally we were not affected by the goal we conceded. We conceded a goal, but we never lost composure and we deserved these three points against a side that is going to give a fight to everyone that comes here."