Andre Lotterer will make his Formula 1 debut at this weekend's Belgian Grand Prix, the Caterham team has confirmed.
Lotterer, who won the 2012 World Endurance Championship with Audi team-mates Marcel Fassler and Benoit Treluyer, replaces Kamui Kobayashi at the troubled Caterham outfit although the Japanese driver remains a member of the team.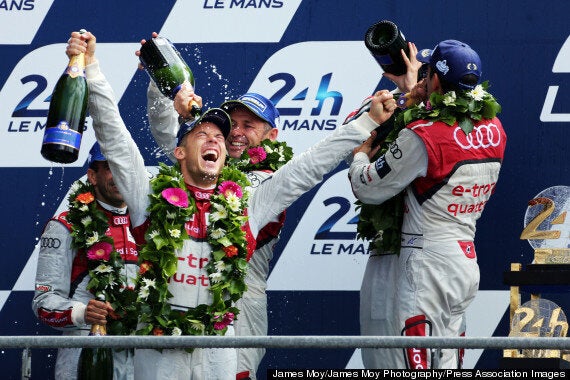 Andre Lotterer celebrates winning the 2014 24 Hours of Le Mans
Lotterer found success in sportscars after failing to win a F1 seat 11 years ago; he was appointed Jaguar Racing's test driver in 2002 only to see Mark Webber and Antonio Pizzonia takes the seats in 2003 after Eddie Irvine retired and Pedro de la Rosa left the team. Instead he moved to Japan, where he competed in both Formula Nippon and the Japanese Super GT Championship, which he won in 2006 and 2009. He made his endurance racing debut in 2009, taking part in the 24 Hours of Le Mans and the 24 Hours of Nurburgring.
Caterham, who have endured a torrid summer because of financial problems that led to a number of redundancies after a new management team was installed, said Lotterer has been selected because of his knowledge of the Spa circuit.
"The team will benefit from having another experienced driver at the wheel of the car throughout the weekend and the German's feedback will contribute to improve the performance of the car," Caterham said, adding: "The weather also plays a big role at Spa-Francorchamps and Lotterer is one of the most experienced drivers racing under mixed conditions."
Lotterer said he was "delighted" to have been given another F1 chance - and at one of his favourite tracks - but admitted there was much to learn quickly.
"I'm ready for this challenge and I cannot wait to jump in the car and make the most out of the weekend ahead. I will need to get settled and used to the car quickly, as the team has worked on a number of updates and we will need to have as much time as possible out on track to optimise the car's performance.
"I really enjoy racing at the legendary circuit of Spa-Francorchamps, it's one of my favourite tracks and it's very close to where I grew up, so this makes the weekend even more special and one to remember."
This will be Lotterer's fourth appearance at Spa this year, having already raced in the FIA WEC, the GT Tour and most recently, July's 24 Hours.