It is a wonderful thing to capture a chef who is on the cusp of stardom, but when it happens, you need gobble everything in sight because soon you'll be looking at months before you get another booking.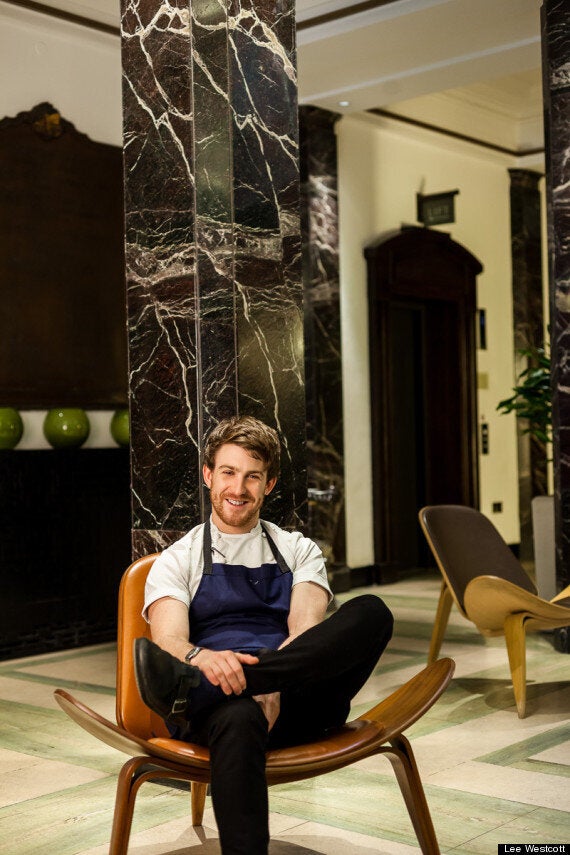 Having dined a few days before at The Berners Tavern – another Atherton-run restaurant where the chef de cuisine is Phil Carmichael – I expected the competition to be tough. But while The Berners Tavern excels at consistently good food from inky black risotto to prawn cocktails, The Typing Room is like that first date that ended up being so fantastic, so exquisite, you just can't stop thinking about it.
This standard of cooking isn't a fluke: Westcott hasn't just trained under Atherton – his credentials include working at Noma, Galvin and also trained under Tom Aikens - at the age of 26 he was in charge of running the chef's eponymous Chelsea restaurant.
At the time, Westcott said: "I'd love to run my own restaurant, be my own boss and make all the decisions. I'd love to have my own brigade under me and be able to show them all the things I've learned over the years."
So has his ambition translated into a successful reality?
The restaurant is part of the Town Hall Hotel, and although Bethnal Green may have gentrified itself from being knee-clackingly terrifying when I lived there as a student 15 years ago, it isn't exactly the most central of locations.
The interiors are beautiful - wooden flooring, duck egg blue chairs, muted turquoise walls and an open-plan kitchen all make this feel like somewhere special but not intimidating.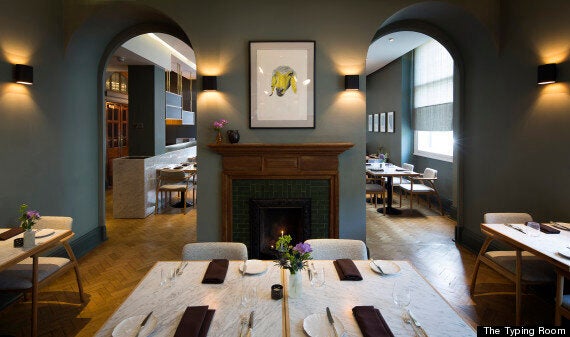 But really, who's looking at décor when Westcott plates up dishes that are so breathtakingly intricate?
Since the launch, Westcott says: "It has gone very well, and although the launch was as hard as expected, I'm extremely happy with how every things turned out."
We opt for the tasting menu at £70 a head and although I can see a couple of ingredients I'm not quite sure about including turnip and beef tongue – each dish stands up on its own merit.
Despite knowing the avalanche of food to come it was impossible to resist the hot, crusty bread. But portions are delicately meted out. Smoked eel arrived in lettuce cups, the wasabi adding bite to the intense smokiness of the dish.
Here our sommelier's skills really kicked in, as the crisp Muscadet that accompanied it cut through the earthiness of the dish. The beef tongue, thick and meaty was one of my favourite dishes, encased in crispy, almost Panko-like breadcrumbs.
Accompanied by a heavier Soave, turnip (or donkey carrots as they are sometimes derided) pea and crab turned out to be one of the most dainty dishes on the menu. A flutter of petals here and there, with the pea presented almost mousse-like with shoots and dabs of rich, creamy crab.
The cauliflower dish – think the thinnest slivers cut vertically – was arranged so artfully it looked like an ornate sea creature yet while I didn't wholly dislike it, neither did I love it. However, it remains a favourite with other customers, Westcott says, as is the raw beef starter.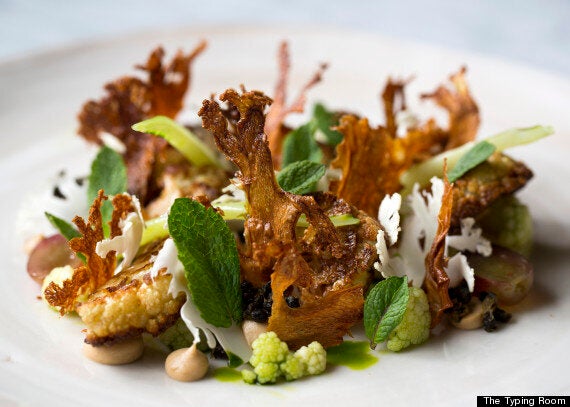 Cauliflower as you've never seen it before
Beef – which I have reintroduced into my diet over the last year – has never passed my lips raw, but this was an excellent start. The quality of the meat shone through, as did Westcott's ability to blend the flavours of smoked beetroot, turnip and horseradish that came raw.
One of the most stunning dishes of the lot was the lamb – cooked medium rare, accompanied by burnt aubergine – flanked by a fat dollop of yogurt and petals of onions scattered across the plate.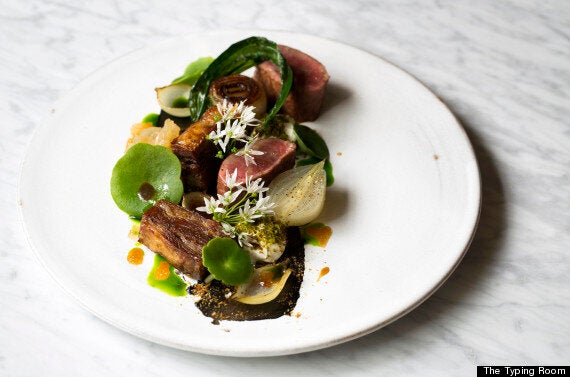 Lamb with burnt aubergine
Dessert was just how I like it: a sweet touch on the palate but not so heavy it makes you groan uncomfortably. After a palate cleanser, the dessert chef placed chocolate and lovage in front of us – a wonderful juxtaposition of dark brown against a Kryptonite green. We loved the touch, by the way, of chefs serving the dishes they have worked on – it makes you feel special, considered and above all, you can put a face to the plate.
My friend and I had intended to talk about his impending nuptials, but as we sped on to City Social for a nightcap all we could talk about was how ridiculously good our meal was. Even now when we chat, one of us will mention "God, remember how amazing that meal was?"
While I wish all the best for Lee and hope he gets the success and recognition he deserves, part of me almost wishes I could press pause because with his talent, his career is going to go stratospheric.
Not just because he's a good chef, but because although the food was some of the best, most memorable array of dishes I've tried in a long while (sorry Berners), so much else contributed to making it a perfect experience from the sommelier's 100% success rate in wine-matching, the chefs dashing to our table and the sweet waitresses who had just the right touch of attentiveness.
In other words, you feel the full glare of Westcott's talent with none of the ego.
The Typing Room, Town Hall Hotel, Patriot Square, London E2 9NF. Call 020 7871 0461 or visit the website.