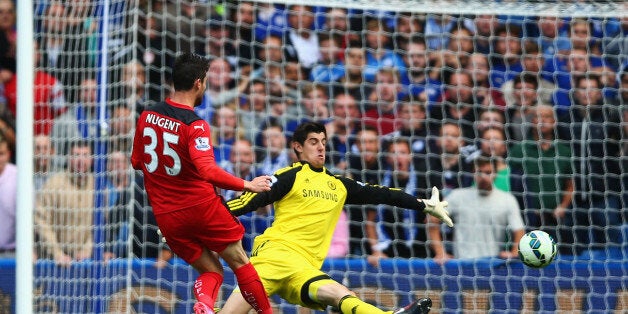 Before the match, only Didier Drogba's name drew a louder cheer than Cesc Fàbregas. By the end of it, it was the man who helped deny Chelsea supporters a Lisbon holiday who they were indebted to. Thibaut Courtois showed just why Petr Čech is sat in the stands at a seminal moment of Chelsea's first home Premier League fixture of the campaign with some gripping goalkeeping that will give David Nugent sleepless nights.
Eight minutes after Courtois spectacularly denied Nugent in front of the Shed End, Chelsea led the visitors in a game that went from stultifying to stimulating within 15 half-time minutes. For 63 minutes, Chelsea looked like they could begin their Stamford Bridge campaign the way they ended it last season. Frustrated by a resilient Leicester in the first 45, the second period began at a chaotic, breakneck speed in which the woodwork was rattled, a pivotal one-on-one was witnessed and Diego Costa claimed a home debut goal in front of the Matthew Harding Stand.
Costa is balm to the scars of last season's stalemates with West Ham and Norwich. In him and his former Atlético Madrid colleague Courtois, José Mourinho has immediately improved Chelsea's starting XI and the pair were instrumental in the surprisingly strenuous defeat of Leicester.
Chelsea supporters have quickly shown their appreciation for Fàbregas, too, a player they despised passionately for close to a decade. Any suggestion he could become the footballing Rafael Benítez in SW6 was dismissed with his virtuoso first-half display at Burnley on Monday night although he underwhelmed on Saturday afternoon.
Fàbregas is actually a Chelsea prototype. Expensive, skilful, snide and unpopular with opposition supporters, he is an appropriate inclusion to the Abramovich pantheon of purchases. David Nugent sternly reminded the Spaniard of English football's physicality as early as the eighth minute but seconds later Fàbregas had ghosted into Leicester's half unattended but André Schürrle and Costa squandered his perceptive through ball.
What was noticeable about Fàbregas was his willingness to drop deep or surge forward to the apex of the diamond. More than once he offered to receive the ball from Courtois but his eagerness encouraged him to support Costa, a role he should have fulfilled at the World Cup. Fàbregas' telepathy with Nemanja Matić will be critical to Chelsea and it is already developing quickly, although its infancy was patent when Matić was robbed of the ball whilst overelaborating and Leicester's positive break was only thwarted by a vigilant Branislav Ivanović.
Andy King, the former Chelsea schoolboy, was tasked with tracking Fàbregas. The midfielder's touch and movement was balletic at times but Costa wasn't in sync and as early as the 19th minute Fàbregas vented his exasperation with his compatriot. The rugged veteran Dean Hammond proved to be a tougher obstacle for Fàbregas.
Leicester did more than get through the hackneyed first 20-minute spell. Mourinho will, rightly, argue Chelsea should swat aside teams with the gung-ho 4-2-3-1 formation but even Leicester were getting in behind Matić and Fàbregas. Riyad Mahrez forced Courtois into an awkward save and Mourinho was struggling to hide his annoyance, giving Costa an earful after he decided against passing the ball back to César Azpilicueta to take a free-kick. Mourinho played the ball instead.
As the Foxes' confidence grew, Fàbregas' waned. He began to impinge on Costa's territory and a crude challenge from Hammond in the 40th minute re-emphasised how tough and swift Leicester were to negate the influential No.4. There was a flicker of ingenuity with a dinked ball over the top for Schürrle, alas the German was offside.
With Mourinho, three substitutes warming up during a first-half is an explicit signal he is already considering changes and Chelsea's starters responded stirringly after the pause. Oscar's caressed shot hit Kasper Schmeichel's left-hand post and the Dane thwarted an Ivanović header within three minutes of the restart, as Hammond did his best to halt the hosts' flow with a hefty challenge on Schürrle.
Courtois had already denied a straightforward Nugent effort but soon again a Leicester counter-attack tore through Chelsea. Nugent bore down on Courtois, one-on-one. They stood in the Shed End, they stood in the press box and they stood in the away dugout. Courtois, imitating his counterpart's father, closed Nugent down impregnably and the home supporters roared as if celebrating a goal. Even Mourinho had to curb his enthusiasm in the technical area.
Fàbregas' moment almost arrived when he eased off a tentative Hammond, now on a yellow card, inside the area and attempted to chip Schmeichel. He stood tall, though, and clawed the ball away, smiling in appreciation at Fàbregas' mischievousness. Costa soon wiped the smile off his face with the scrappy opener and the anguish was etched on a remorseful Nugent's face.
Eventually, Fàbregas had an impact with his third assist in two games, finished in trademark style by the quiet Eden Hazard with 13 minutes remaining. Mourinho switched to auto-pilot and allowed Drogba to enjoy the beginning of his last hurrah with a cameo of exhibition proportions.
"You're shit, aaaaaahhhh," Leicester fans informed Courtois after he denied Nugent. He is anything but.
Popular in the Community