Famed for his appearances in 'The Great Escape' and 'Jurassic Park' as well as directing the Academy Award-winning 'Gandhi', Lord Attenborough died around lunchtime on Sunday, his son said.
The cinema legend had been in a nursing home, along with his wife, for some time, and had been in a wheelchair since an accident six years ago, the BBC reported. Richard Attenborough and his wife, actress Sheila Sim, at the BAFTA awards
Prime Minister David Cameron paid tribute to Lord Attenborough in a statement which read: "His acting in 'Brighton Rock' was brilliant, his directing of 'Gandhi' was stunning - Richard Attenborough was one of the greats of cinema."
The elder brother of naturalist and broadcast Sir David Attenborough, Attenborough was born in Cambridge and served in the Royal Air Force during the Second World War. He trained as an actor at RADA, where he remained a patron until his death.
During an illustrious career he won eight Oscars for 'Gandhi' in 1983, as well as four BAFTAs and four Golden Globes. His most famous roles were as sages, scientists and Santa Claus, in films like the noir that made his name 'Brighton Rock', war thriller 'The Great Escape', and Christmas family film 'Miracle on 34th Street'.
As an actor he was respected enough for top directors Satyajit Ray and Steven Spielberg to lure him out of self-imposed retirement to appear respectively in 'The Chess Players' and 'Jurassic Park'.
He married the actress Sheila Sim when he was 21. His son Michael was born in 1949, followed by two daughters, Jane and Charlotte. Tragedy struck on Boxing Day 2004 when his elder daughter Jane Holland, and her daughter, Lucy, and her mother-in-law, also named Jane, were killed in the south-Asian tsunami.
Michael is a theatre director and former artistic director of the Almeida Theatre in Islington, north London, and Charlotte is an actress.
Lord Attenborough struck up a friendship with Diana, Princess of Wales, after the Prince of Wales asked him to help her write speeches. He championed the British film business through its triumphs and trials for more than 50 years as actor, Oscar-winning director and prolific movie-maker.
He had a grand vision and a deep desire to educate, decrying injustice and extolling heroes such as Gandhi and Steve Biko, a South African victim of Apartheid.
Story continues below slideshow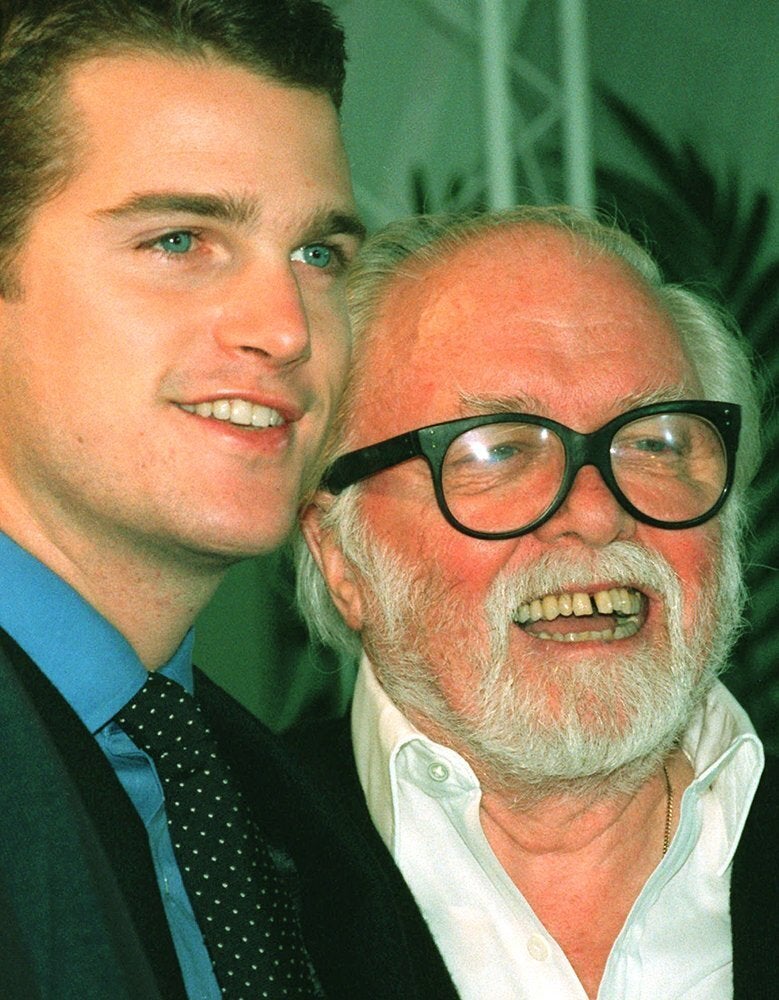 RIP Richard Attenborough
It was 'Gandhi', arguably one of the least obvious successes in the history of the cinema, that marked the highlight of his remarkable career, clinching eight Oscars, including best film and best director. His breadth of canvas and eye for detail were at their most impressive here, with Attenborough displaying a knack to control some 400,000 extras at the re-creation of Gandhi's funeral.
His highly emotional and effusive character was one of the most lampooned in the art world, where he was known as the "original luvvy" who was easily moved to tears. But, above all, his deep passion and unflagging energy as actor, director, producer, fund-raiser and chairman of numerous charities were genuine, and his good-nature was renowned in a notoriously tough world of clashing giant egos which he inhabited.
A dedicated socialist, he was introduced to rebellious politics by his mother, who joined protest marches in the 1930s against Spain's General Franco and took in Basque refugees from the Spanish Civil War. His parents also helped to co-ordinate the evacuation of Jewish children from Europe.
On stage, Attenborough and his wife were in the original cast of Agatha Christie's thriller 'The Mousetrap', appearing in the first 700 performances. Attenborough was now a household name with a huge fan club.
But he became increasingly disillusioned at the parts he was offered and went into partnership with Bryan Forbes to make films which they "believed would express certain aspirations and certain horrors".
Forbes directed and Attenborough produced and starred in gritty, realistic films such as 'The Angry Silence' about trade unionism and The L-Shaped Room set in bleak bedsitter London.
The role he found the most personally disturbing was that of murderer John Christie in '10 Rillington Place'.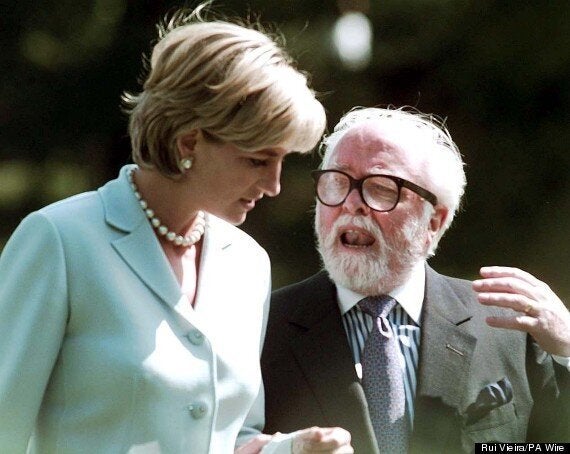 Richard Attenborough with the Princess of Wales as Lord Attenborough has died aged 90
When he moved into production he had no thought of being a director except that he wanted to make one film - on the life of Gandhi.
Yet it was 20 years before he found the necessary funding. Meanwhile, he established himself with a series of mainstream pieces such as 'Oh! What a Lovely War', 'Young Winston' on the early years of Winston Churchill and 'A Bridge Too Far' about the ill-fated attack on Arnhem.
But Gandhi remained the big dream and when filming began Attenborough thought nothing of lugging camera equipment up hills in a bid to inspire his crew. His faith was rewarded with the eight Oscars and a profit of well over £100 million.
His epics were, however, not universally applauded. 'Cry Freedom', about the relationship between murdered black activist Steve Biko and white journalist Donald Woods was attacked for failing to address fully the issues of Apartheid. And 'Chaplin' also failed to win critical approval.
Attenborough admitted he was no avant-garde film-maker. "I tell stories with a beginning, a middle and an end," he said.
Away from films he held a vast number of positions, most notably as chairman of Channel 4, from 1987 to 1993. He personally stood firmly behind the company's decision not to name a source used in a documentary on Northern Ireland and appeared at the High Court even though at one point it looked as though his principles would land him in jail for contempt of court.
Attenborough received a life peerage in 1993.
Related