'X Factor' viewers were treated to the unconventional vocal stylings of married couple Ashley Slater and Scarlett Quinn, otherwise known as Kitten and the Hip, who might have looked more than a little familiar to some viewers.
The pair may have looked like love's young dream - or, as Louis Walsh so tactlessly pointed out, like father and daughter - but they were keen to show the judging panel how seriously they were taking the competition.
Because really, what says "serious" better than a hairstyle inspired by a McDonald's strawberry shake?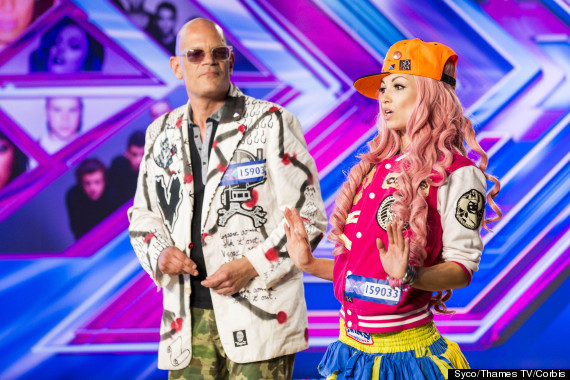 Kitten and the Hip
Unfortunately for fans of love conquering all, Simon Cowell and the gang told the couple they'd be willing to put 'Kitten' through to the next stage of the show, but only if she ditched 'The Hip'.
It turns out, after deliberating for about half a second, that she was perfectly OK with that, and through to the next stage she went, without her 53-year-old husband. Ouch.
SEE MORE: Five Best (And Worst!) Acts From Sunday Night's 'X Factor'
However, don't feel too sorry for The Hip, because - after a bit of poking around online - it turns out he's already had a fair stab at a career in the music industry, and used to be a member of the acid jazz band Freak Power.
The group - which also featured Norman Cook, better known as Fatboy Slim - reached the UK top three in 1995 after their track 'Turn On, Tune In, Cop Out' was used in an advert for Levi's jeans, so it's slightly more understandable now why he was so blasé about letting his wife carry on in the competition.
It turns out Ashley - aka. The Hip - isn't the only one of this year's contestants with a musical past, though, as Chloe Jasmine previously auditioned for 'X Factor' in 2006, while Linzi Martin had already been a member of Girl Thing before she showed up to the auditions this year.
LIKE US ON FACEBOOK | FOLLOW US ON TWITTER