A next-generation app-controlled robot named Ollie will launch in the UK before Christmas -- and every kid you know will probably want one.
The good news? If they claim it's "educational" as well as awesome, they won't be lying.
Ollie is the second robot by Sphero, whose round robotic ball of the same name won huge critical plaudits for being both a clearly awesome toy, and a fresh gateway into the world of computing and robotics pioneered by products like the 'Turtle' Logo robot in the 1980s.
Controlled via Bluetooth and your phone, Sphero (and Ollie) are "smart" toys, which can be reprogrammed and repurposed for limitless uses, games and experiments.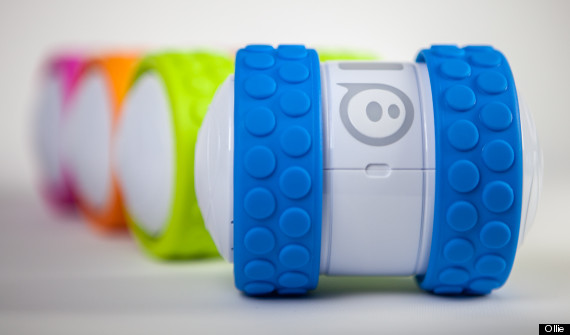 While it loses the cute round form factor, Ollie is a big step up from Sphero - even just for its new physical abilities. The £79.99 robot (which will be out in time for Christmas) is able to travel at "unreasonably fast" speeds up to 14MPH, can do quite spectacular jumps off ramps and tables. It can even execute "stunts" including flips, spins and drifting moves around corners.
Like its older sibling, the two-wheeled bot can be programmed with the same precision as the original Sphero by a pair of included apps, which let kids lay out user-controlled paths for the Bluetooth robot to follow, and build up complex problem solving mechanics using languages like Basic and more complex code.
It also has an extremely durable polycarbonate body, with interchangeable tyres and hubcaps. Sphero have even designed it with 3D printers in mind, allowing enterprising users and classrooms to work with 3D printing software to develop their own "shell armour" and even mounts for GoPro cameras.
Ian Bernstein, CTO and co-founder of Sphero, said that the robot was designed to appeal to kids as both a fast, physical toy, and also a potential well of creative inspiration.
In person it's essentially delightful: the robot has the same bizarrely potent sense of personality as the original, with multi-colour lights bubbling beneath its surface and some frankly incredible pet-bothering abilities buried beneath the surface.
We'll have a full write-up of the Ollie next week after IFA, but in the meantime head over to the Sphero website for full details.
Plus you don't even have to wait until Christmas to get your name on the list - Ollie can be preordered on the website now and is out on 15 September.