Two weeks ago, LG's G Watch R seemed set for a run at the smartwatch world championship title, such as it is.
As the fully round successor to the G Watch -- a plain Android Wear gadget which LG now describes as a "reference model" as much as a real release -- it was an immediate visual improvement. It has a 1.3-inch diameter round screen at 245 pixels-per-inch. It has a solid battery, fits any watch strap and has a sporty, if arguably overtly masculine real-watch design.
But in person - and with the spectre of both the Moto360's imminent release and the ghost of Apple Future waiting in the wings, it might be the wrong watch for the wrong, well, time.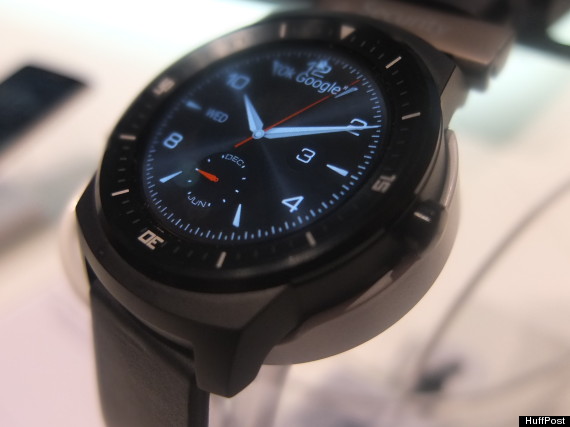 First up, it's worth stating that the G Watch R really does just look like a watch. It has a rounded concave bezel with traditional 15-minute increment markers. It has a real watch strap and understated black/metal materials.
But that design has both positives and negatives. It doesn't look like a gadget - it looks like a watch. But it doesn't necessarily look like a particularly cool watch. Or rather, it's so specifically a chunky, sporty, maybe-going-surfing watch that unless you're ready to embrace that aesthetic in the entirety of your personal life, you probably aren't going to want to wear it.
That said, the alternative straps we saw were nice, and gave the watch a different style and tone. It's not a classic design, or versatile enough to appeal to a wide range of consumers, but then people still think the watch they got free with their car is acceptable for a wedding, so what do we know?
The other factor nagging at the heels of the G Watch R, despite its two years development time, is the fact that it's running Android Wear. And the reality is that particular OS/interface/whatever - which relies on telling you what you need to know, rather than you requesting anything much from it yourself - hasn't captured people's imaginations yet in the way Google and LG (and Samsung and Motorola) might have hoped. It doesn't 'do' enough for the techies, and doesn't seem intuitive enough for less fidgety users. It needs an update, fast.
As a whole the G Watch R feels then like a decent gadget and a cool piece of tech with a divisive, unmemorable design -- and one unveiled in public just days before the most powerful tech company on Earth, and the one with the greatest ability to define the look and feel of new categories of hardware, shows their hand in the wearable market. The question we felt hovering over the LG stand at IFA this year when watching people try out the G Watch R was 'will anyone care on Tuesday?' And the answer, probably, is no.