As September is National Organic Month, it's the perfect time to experiment with fresh foods that will be kinder to your body and kinder to the environment.
With that in mind, we bring you three seasonal, organic recipes created by celebrity chef Monica Galetti for the Organic. Naturally Different campaign.
Braised Beef with Horseradish Dumplings
Serves 4
For the braised beef:
Ingredients:
800g Organic Beef Skirt or Braising Beef
Salt and Pepper
1 tbs Plain Organic Flour
4 tbs Groundnut Oil
2 Large Organic Carrots, peeled and quartered
1 White Organic Onion, quartered
250ml Dry Red Wine
2 Organic Oranges, peel and the juices
1 Fresh Bay Leaf
6 Whole Black Peppercorns
15g Demerara Sugar
400ml Beef Stock
Method:
• Pre heat the oven to 160c/325f/gas3
• Cut beef into large chunks
• Season each piece of beef with salt and pepper and colour all over
• Add a knob of butter and add the carrots, onions and cook until nice and brown
• Stir in the flour until golden brown, add the orange juice and bring to boil
• Add the red wine and the peel of 2 oranges, thyme, rosemary, bay leaf, peppercorns and sugar and bring to the boil.
• Reduce by 2/3 and add the stock
• Bring to simmer, cover with a lid and cook in the oven for an hour on 170degrees Celsius
• Remove the lid, spoon 4-6 of the dumpling mix (method below) on top place lid back on and place back in oven for another hour
• Remove the lid in the last 10 minutes of cooking
For the horseradish dumplings:
Ingredients
200ml Organic Milk
80g Organic Butter
5g Grated Horseradish
90g Semolina
1 Medium Organic Egg
Salt and Pepper
Method:
• Bring milk, horseradish and butter to the boil
• Stir in the semolina and cook until thick
• Beat until cool then add the egg and season with salt and pepper
• Scoop onto cooking beef 1hr before
Organic Brined Beef with Mash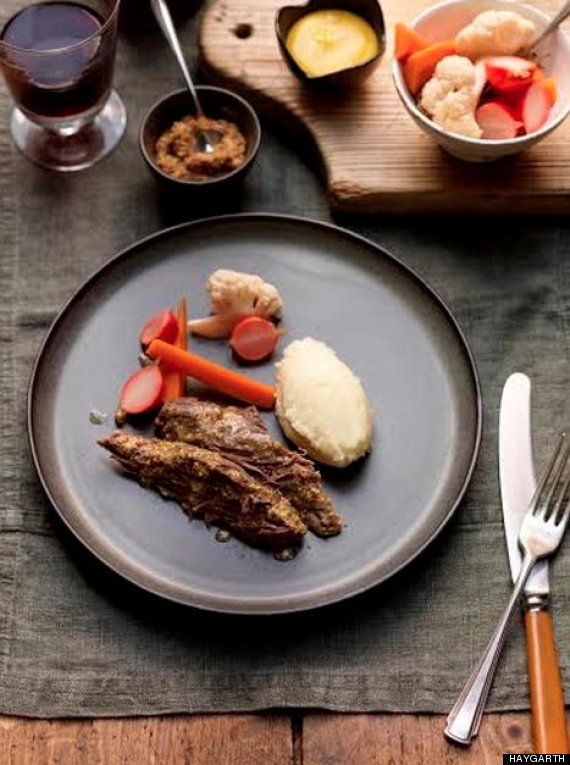 For the organic brined beef:
Ingredients:
800g Organic Beef Skirt
1ltr Water
60g Sea Salt
25g Demerara Sugar
4 Star Anis
2 Cinnamon Sticks
4 Juniper Berries
2 Bay Leaves
Method:
• Bring water spices, sugar, salt and bay to the boil for 1minute then cool
• Pierce the beef vigorously with a fork all over then pour the brine to cover and leave in fridge for
• 1-1/2 -2hrs.
• Remove from brine and rinse under cold water
• Place in a deep saucepan and cover with fresh water
• Bring to the boil then turn down to gentle summer and add 1 onion, 1 carrot and 3 sticks of celery
• Cook for about 1-1/2 -2hours until just tender and almost falling apart
• Leave to cool in liquid
• Serve with the cooked vegetables with a selection of pickles and mustard of your choice
For the organic mash:
Ingredients:
Large Organic Floury Potatoes like King Edwards
3Tbsp Organic Crème Fraîche
Salt and Pepper
Method:
• Cook the potatoes with skins on in salted water.
• Remove skin and mash then beat in the crème fraîche with a spatula, season salt and pepper.
Thin Tart of Pears with Crème Fraîche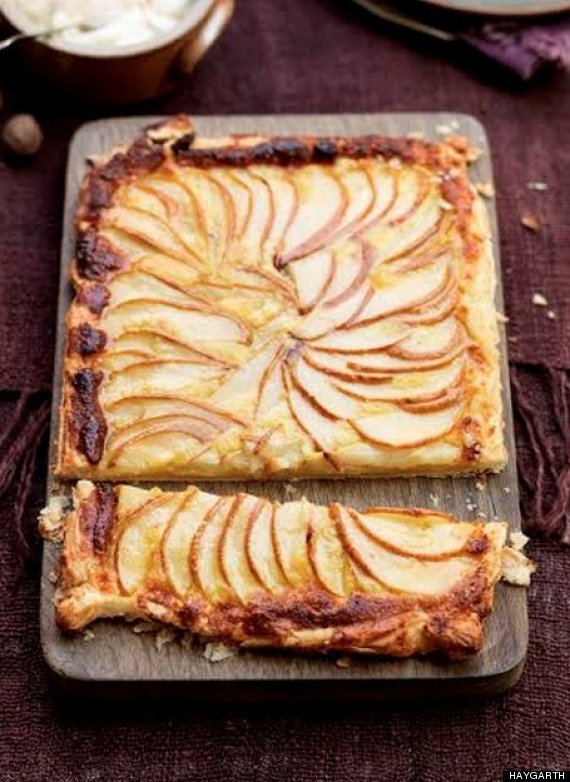 Ingredients:
1/2 Puff Pastry Sheet
5 Organic Pears
100g Soft Organic Butter
100g Caster Sugar
120g Ground Almonds
2 Medium Organic Eggs, beaten
20g. Demerara Sugar
25g Melted Organic Butter
Organic Crème Fraîche to serve
Method:
• Whisk butter and sugar until creamy
• Stir in almond powder then the eggs
• Leave to set and remove from fridge 10mins before using
• Cut a large rectangle of the pastry, fold in 1cm border along the edge and prick the pastry all over with a fork
• Spread the almond cream to cover the base
• Peel and slice pears into about 3mm thick slices and alternate layers
• Brush with the melted butter and sprinkle with the Demerara
• Bake in oven in 180 degrees Celsius for about 30minutes until pastry is crispy and golden and the pears are cooked
• Serve with Organic crème fraîche
Monica Galetti has created a range of seasonal recipes for the Organic. Naturally Different campaign. For more information, visit: www.facebook.com/organicuk