FIFA 15 is out on 26 September and Fifa have confirmed who the highest-rated player on this year's edition is.
In a two-horse race, it is Lionel Messi who has pipped Cristiano Ronaldo to the honour, which has nothing to do with the Argentinean's sponsorship with EA Sports or Ronaldo's past affiliation with PES.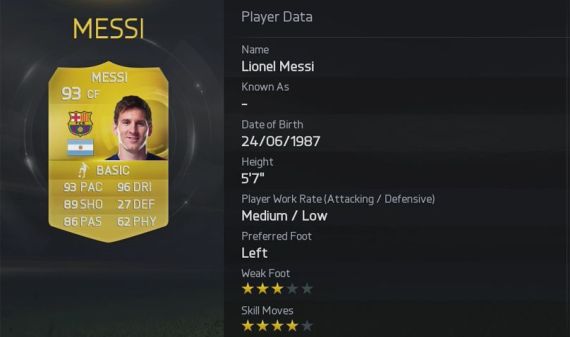 Messi: Not the most physical of players
You can check on all the ratings for the top 50 players here but below are the terrific 10...
HIGHEST-RATED FIFA 15 PLAYERS
Lionel Messi 93
Cristiano Ronaldo 92
Arjen Robben 90
Zlatan Ibrahimovic 90
Manuel Neuer 90
Andres Iniesta 89
Luis Suarez 89
Bastian Schweinsteiger 88
Franck Ribery 88
Eden Hazard 88