Amid the news that the Duke and Duchess of Cambridge are expecting their second child the internet predictably exploded.
Social media was flooded with good wishes towards the couple and the future prince or princess (Indeed the Queen has intervened to make sure that the child can use that title).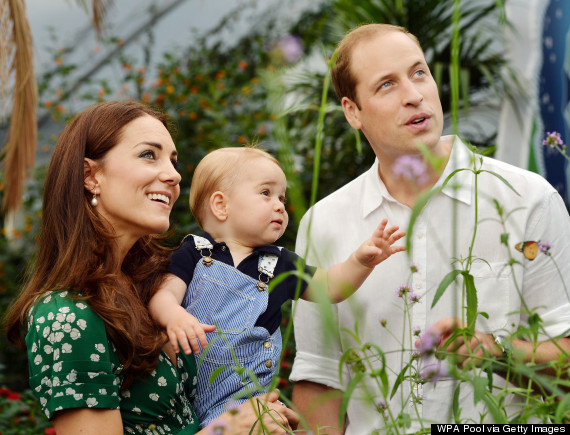 The Duke and Duchess of Cambridge hold Prince George visiting a butterflies exhibition
But, in almost equal measure, many people posted messages showing they weren't quite as excited as everyone else. Here are 11 people who frankly don't care...
1) The Queen's cousin:
CNN asked the Queen's cousin, Margaret Rhodes, if she was excited about the Royal Baby. She replied: "not terribly. Everybody has babies."
2) Prince George?
Prince George is overjoyed at the idea of having a younger sibling ... #RoyalBabypic.twitter.com/YH8ksK5kTe

— SeanySean (@tweetseamus) September 8, 2014
3) Most of the world, according to this map:
News of the new #RoyalBaby spreads fast! http://t.co/6PGj192IjDpic.twitter.com/JKjbbHW0Lt

— Trendsmap (@Trendsmap) September 8, 2014
4) This novelist who is more interested in the suspicious political timing:
Hard not to be cynical about the timing of this royal baby announcement.

— Hari Kunzru (@harikunzru) September 8, 2014
5) This Scottish Member of Parliament:
Congratulations to Kate and William. And everyone else who is pregnant, for that matter. Thank you for ensuring furtherance of the species

— Mark McDonald (@markmcdsnp) September 8, 2014
6) Potentially Kay Burley, who surely will have some inner dread that she may have to survive through presenting another 30 hours of live rolling Sky News coverage.
Ha ;-) "@GeneralBoles: You'll never beat @KayBurley#RoyalBaby#RoyalBabyWatchpic.twitter.com/hAuasyqzmL"

— Kay Burley (@KayBurley) September 8, 2014
7) This guy:
Benefits Britain strikes again. Congratulations #RoyalBaby another mouth for the British taxpayer to feed.

— Joseph Venables (@JosephVenables) September 8, 2014
8) This girl, who prefers the first model:
i will be seriously disappointed if the new baby isnt as cute as prince george #royalbaby

— Katie O'Connor (@KTOConnor423) September 8, 2014
9) This guy with an unlikely wish:
The only way I'll be excited about the #royalbaby is if William is pregnant

— Zac Williams-Smith (@imnotasian1994) September 8, 2014
10) This chap who's watched too much TV:
ANOTHER CONTENDER TO THE IRON THRONE! #RoyalBaby

— Thronecast (@thronecast) September 8, 2014
11) Someone who thinks we don't need a spare heir:
BREAKING: Rich white lady gets pregnant--with a baby. World asks, "do we really need a backup heir?" #RoyalBaby

— Joshua Edinborough (@JEdinborough) September 8, 2014
SEE ALSO: