Running back Ray Rice has been released by the Baltimore Ravens and suspended indefinitely by the NFL after new video emerged showing him punching his wife.
Rice had previously been banned for the opening two games of the season after another video showed him dragging his then-fiancee Janay Palmer, seemingly unconscious, out of a hotel elevator.
The sanction drew widespread criticism when compared to other suspensions such as Cleveland Browns receiver Josh Gordon's season-long ban for a third recreational drug offence.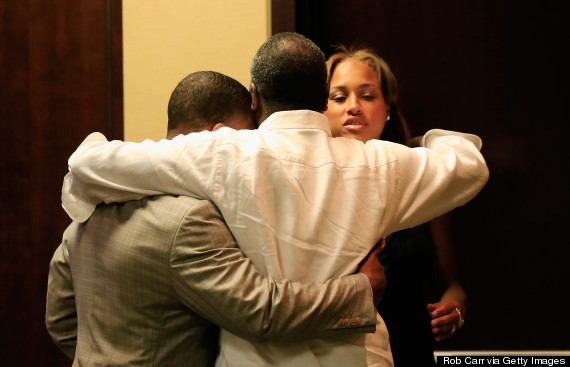 Rice receives a hug from his wife Janay and father-in-law after a May news conference
And after a new clip released by celebrity gossip website TMZ showed Rice knocking Palmer to the floor of the elevator with a left hook, both the league and his team took decisive action.
A statement on the Ravens' website read: "The Ravens terminated the contract of running back Ray Rice on Monday afternoon.
"NFL Commissioner Roger Goodell also announced that based on new video evidence that became available today, he has indefinitely suspended Rice. Rice was previously serving a two-game suspension."
The increased suspension tallies with NFL commissioner Roger Goodell's pledge to re-evaluate domestic violence offences in the light of Rice's original ban.
Goodell wrote in a letter to team owners on August 28: "My disciplinary decision led the public to question our sincerity, our commitment, and whether we understood the toll that domestic violence inflicts on so many families.
"I take responsibility both for the decision and for ensuring that our actions in the future properly reflect our values. I didn't get it right. Simply put, we have to do better. And we will."
Rice and Palmer were married in March, the day after the 27-year-old half-back was indicted on charges of simple assault and domestic violence.
Palmer was also arrested after hitting Rice before they entered the elevator, though a charge against her of simple assault was later dropped.
Rice's release leaves 2012 Super Bowl champions Baltimore with Bernard Pierce top of their running back depth chart, backed up by Justin Forsett and rookie Lorenzo Taliaferro.