Nestle has decided to debunk one life's great truisms: that there is 'nothing more useless than a chocolate teapot'.
Well now the search must begin because it turns out that a chocolate teapot is actually quite useful.
The confectionary brand was challenged by the BBC One Show to prove the myth wrong by creating a chocolate teapot that could brew a cup of tea and then pour, all without turning into a hot chocolatey mess.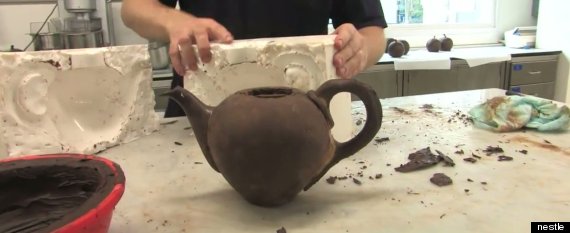 Nestle took them up on the offer and assigned master chocolatier John Costello with the daunting task of creating a chocolate that wouldn't melt.
Costello quickly realised that 65 per cent dark chocolate would be his building material, thanks to its low fat content the chocolate would be able to hold its shape better.
There would be a large hole in the top allowing the steam to escape while thick walls would prevent the teapot from collapsing.
The test was a complete success, not only did the teapot survive a kettle's worth of boiling water but it also brewed the tea for two minutes.