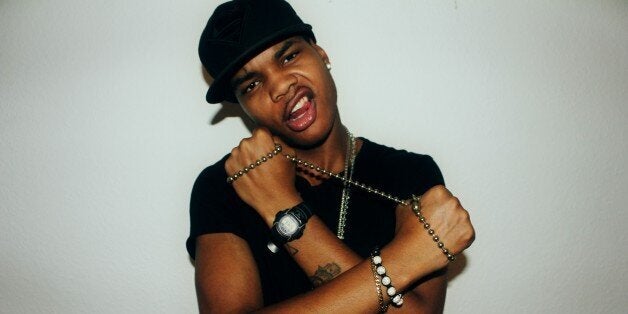 Rapper and singer Jay Carteré is no stranger to hard work, having already released five mixtapes by the age of 20. Although he is currently studying a music production degree at Tech Music School, he still finds time to make his music career an absolute priority. The London-based artist has just released his latest single 'The Night' on iTunes after moving away from rap slightly to try his hand at the dance genre, and has more tracks in the pipeline coming up soon. Oh, and he's a producer too.
The Huffington Post UK caught up with him to find out the story behind his career and what he's been up to.
When did you start making music?
I first got into music when I was 13. When I was at school I had started listening to Grime, and because I was a good English student and liked writing stories, I thought I'd give writing songs a go... And I liked it. After that I started making music with some friends, because everyone was into MCing at the time and my friend had his own studio. Eventually, I think when I was around 16, I started taking it seriously and began rapping after investing in my own studio.
So when did you set up your first studio, and how did you do it?
I was 16, I had just started college in Barnet and wanted to start making music seriously. I started asking around for prices on renting out a studio and everyone was charging £15 an hour at least, so I thought it would be more economically viable to build my own studio which I could use whenever I liked. So I went on Amazon and searched for the bare minimum of equipment I needed, which included a microphone, a stand, some headphones and a pop shield, and then I downloaded recording and editing software Cubase. The entire studio only cost me around £100, so it was very affordable - I also made a YouTube video explaining how to get a good deal.
Who are your main influences?
Back in the day when I first started rapping, my influences included Lil Wayne, Chip, Wretch 32, Jay Z and Trey Songz. Lately I've been getting into dance so I've picked up some Avicii and Calvin Harris, and Drake is a massive influence too.
So you've recently made the transition from rap to dance music; how did it happen and why did you do this?
That all came about when I first started at university, because everyone in my class was into house music. Before that I absolutely despised house, but my peers persuaded me to venture deeper into the genre. In my search for house, I came across Avicii and loved his music (although I later found out his style wasn't house, but dance!). I started listening to dance more and I thought – maybe I can make music like that. I'd already made loads of rap previously, and I really wanted to try something new. Dance just fell into place naturally and I found it easy to produce.
If you could collaborate with anyone in the world, alive or dead, who would it be?
First of all Big Sean would be an absolute dream because I love the way he articulates himself in his lyrics; he is hilarious and extremely witty, and I aspire to be clever with my writing in a similar way. Drake naturally would be incredible because he's a total master of his craft and a maker of great music, and I would have to be right on my toes and at the top of my game to work alongside him. Michael Jackson is a no-brainer and doesn't really need to be explained because he's just an absolute genius and the biggest name in music in the world - and finally, let's chuck in Justin Bieber. Although a lot of people hated on his early stuff, no one can disagree that his last two albums have been spectacular. Bieber fever? Yes, I think I may have finally caught it...
You're a producer as well as a rapper and a singer. When did you start getting into production?
So basically I finished my third mixtape, 'Sneakers and Pringles', way ahead of schedule and I still had three months before its release. So I decided to use the free time I had to look into production! I've always wanted to try it because I seriously respected the craft, but thought it would be too difficult. But I wanted to give it a go and searched on YouTube to find videos that taught me how to do it. For example, there would be basic videos on how to produce a pop song, so I'd watch it and see how a basic song is put together, which is really important. Then I'd work out what instruments to include for certain genres, how many and how to arrange them. Watching my friends who could produce helped me gradually improve, too.
Definitely rapping, because that's where I started and where my heart is, really. That's what I think I'm best at. I do love production though as I enjoy building something from right from scratch. I don't like relying on others to do things for me - I like to do everything myself usually because then I know it's at its absolute best.
What would you say is the highlight of your career so far?
Releasing 'Caesar Augustus', my latest mixtape. I believe it is my strongest piece of work to date, and I'm really proud of that project because it's exactly what I wanted it to be.
What is the inspiration behind your videos?
I really like my work to be something a bit weird or interesting, so it's not just like other generic music videos. My best mate Mike is excellent when I need help coming up with something a little different. For example in 'Mary Shelley', I use a lot of make up and special effects. Of course Shelley is the author of 'Frankenstein', so I wanted to fit in with the gothic theme by including the creator and horror costume. I even researched on the internet to find out how to make gothic make up look real!
Finally, what's ahead for you in the future, Jay?
As I've just released my new single 'The Night', I'm currently working on a video for it, which I'm really excited about. I don't want to release any details just yet so you'll have to wait and see. All I want to tell you is to expect the unexpected... When I've finished the video I want to release some more singles, and then I'll start working on a new project. I think I might go back to creating some rap - or a hybrid of both rap and dance - I really miss rap!