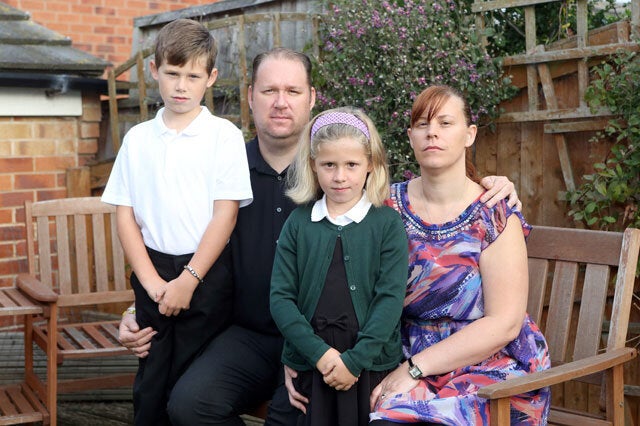 A group of parents have taken their 14 children out of a primary school after they were banned from taking packed lunches.
Milefield Primary School in Grimethorpe, Barnsley, South Yorkshire, implemented the new school meals policy when the kids returned to school last Friday.
Angry dad Adam Martin, 31, has now taken his three children, Harry, four, George, five and Amelia, seven, out of the school after losing all faith over the lunch dispute.
Adam told his local paper: "I feel like our freedom of choice has been taken away. We were appalled to be told our children couldn't take in pack lunches and further incensed with how the school have dealt with the situation.
"We like our kids to have a packed lunch because, not only does it save us money, but it also allows you to be able to let your children eat what they like.
"When you have fussy eaters, as children quite often are, it means you can make sure they are eating a full balanced meal.
"The packed lunches we make are healthy and nutritious, we don't need somebody to tell us what our children should be eating.
"We feel very strongly about this. I'm sure this must be violating some kind of human right.
"The school's new rules state the only options open to parents now is to let them have a school cooked lunch or to go home."

Adam is part of a Facebook group of around 60 parents who are angered about the move.
He said: "So far around 14 kids have been removed from the school because of this. "Another problem with this is that the school only has one choice of meal so the kids either have to like it or lump it."
Another dad, Mick Curphey, 39, has kept his children, William, eight, and Beth, seven, in school as he does not want to disrupt them, but he is angry at the decision and is hoping for pack lunches to be reintroduced.
He and wife Debbie, 37, both work but are still unhappy at the extra cost.
Mick said: "The cost of packed lunches is swallowed up in our weekly shopping bill so we basically don't feel the cost. But if we have to pay for lunches it is more money we have to find to pay another bill. Our food bill will not come down.
"Every evening we make packed lunches for all four of us for the next day. We consider our packed lunches to be healthy.
"The cost of school meals for our two - £3.50 a day - works out at around £682.50 a year - £80 more than our energy bills.
"That is an awful lot of money to find. We know some people who have four kids and when you look at those costs it just gets atrocious."
Milefield' Headteacher Paula Murray said: "We're not forcing anyone. We're encouraging the promotion of healthy eating and it's had such positive impact and we're only into day four of the actual programme being run out in the school.
"The parents have the choice of taking their children home if they don't want them to have a school meal.
"We have got to work towards what's best for our children and a large proportion of children in the school - over 97 per cent of parents are in favour of the changes."
What do you think about this?