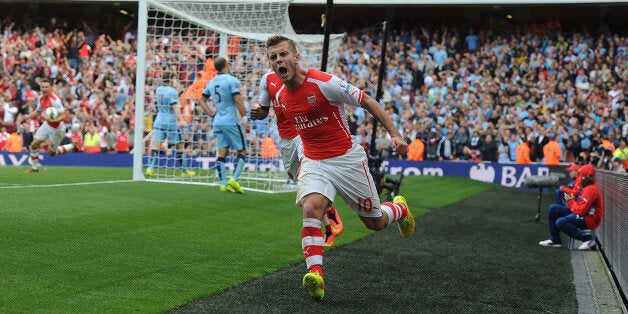 He was facing Joe Hart, rather than Manuel Neuer, the dink was airborne this time but the radar was off. Twelve minutes into his Arsenal debut, Danny Welbeck had a quick chance to return fire at Louis van Gaal yet his finish simply was not up to the "standard" of that demanding Dutchman.
This was a Danny Welbeck Manchester United supporters were too familiar with and on his day of reckoning he failed. He will get more chances as Arsenal's central striker in weeks and years to come, but that pained image of Welbeck and a sea of Arsenal fans, united in agony with their hands on their heads, could be a defining one.
The deafening roar that greeted Welbeck was more rapturous than the greetings Alexis Sánchez enjoyed at Wembley and the Emirates. The revisionism Welbeck has benefitted from was confirmed quickly, as Arsenal's supporters fell hard and fast for the striker before he had even kicked a ball for their club. And he came agonisingly close to rewarding them.
"Gamely" suits Welbeck though it must concern him that the majority of his displays could be described as that. He was, undoubtedly, gamely again, offering physicality up front and an infectious enthusiasm. Alas, Welbeck still struggles to stick the ball in the back of the net.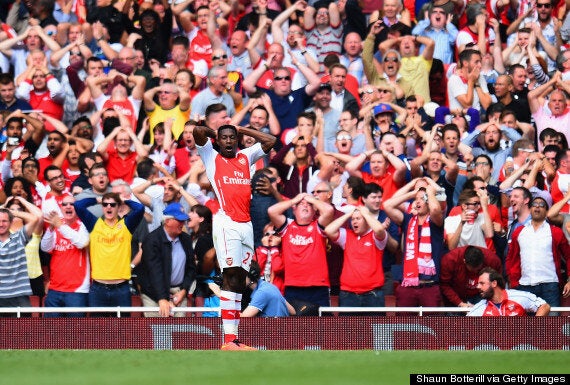 Welbeck missed a one-on-one in the 12th minute
Should he have gone for the chip? "Maybe," Arsène Wenger opined after a long pause. "Thank you for making me think about it."
Jack Wilshere and Alexis Sánchez applied balm for Welbeck's wounds during a coruscating clash. Manchester City will rue the woodwork just as much as Welbeck and Arsène Wenger will lament Arsenal's defensive deficiencies. Regrets will linger for the Longsight lad. What if he had capitalised on Arsenal's stellar start and placed the ball six inches to the right?
Welbeck scored once in six starts against City and he might have braced himself for disappointment akin to his demotion against the Blues in April 2012 after Arsène Wenger admitted he would have preferred to sign Welbeck on an initial loan. Welbeck is a vastly better striker than Yaya Sanogo but Wenger works in mysterious ways. Saturday wasn't one of them.
Frank Lampard and Fernandinho were making their first starts since undistinguished World Cups and it showed. Fernandinho, not selected for a starting XI since Germany eviscerated Brazil in July, was overwhelmed by the tenacious Wilshere quickly and his error gifted Welbeck a one-on-one. The scars of his disastrous dink against Neuer had not shaken his confidence, however it was a bad miss from the 23-year-old.
James Milner, starting wide, was often forced inside to help the flustered Fernandinho and Lampard, booked for a cynical lunge on Aaron Ramsey. Lampard has seen leaner days and playing him against a trio as combative and ebullient as Ramsey, Wilshere and Mathieu Flamini was risky. Predictably, he was withdrawn at the interval.
Arsenal are Arsenal, though, and a brilliant start and a wasteful chance later they were sucker punched. A fortuitous deflection off Sergio Agüero set off the quicksilver Jesús Navas and his precise cross was finished clinically by the onrushing Agüero at the near post on 28 minutes. Wenger's failure to sign a defensive midfielder was exposed again; whether it is Flamini, Mikel Arteta or Abou Diaby, neither of them can mask Arsenal's porousness.
Welbeck's self-belief was shaken like the woodwork he rattled after Agüero's opener. David Silva oozed class, caressing the ball as if he was protected by an impregnable force field, whereas Mesut Özil and Alexis Sánchez lacked the courage to support Welbeck up the other end. The duo were quick to cede the ball whenever the imposing Vincent Kompany was in the vicinity.
Also timid was Samir Nasri, urged to conduct his warm up at the other end of the touchline by City assistant Brian Kidd after vitriol poured down from the terraces. It barely mattered, since he was called a "cunt" at each corner of the ground. Nasri replaced the lumbering Lampard.
With Milner beside Fernandinho, City looked secure again until the 63rd minute. Arsenal fans, moribund, became animated at Sánchez and Özil's flimsiness and Arsenal's equaliser stemmed from the latter's cowardice. Kompany, not content with dispossessing the German, steamed forward but failed to retain the ball and Arsenal poured forward dynamically and aggression before Wilshere jinked past Clichy and showed Welbeck how to lob Hart.
This was Wilshere's finest display in what must have felt like an eternity for the midfielder. Incisive and enterprising, over the last year Ramsey has left him in the shade yet against City it was the reverse. He toiled against Switzerland as a defensive midfielder for England and his return to a more advanced role appeared to galvanise Wilshere, albeit against a depleted City midfield. Yaya Touré and Fernando will provide a sterner test in January.
Sánchez atoned for his brittleness with a fabulous volley on 74 minutes but Arsenal barely looked comfortable leading the game. Their lead was nine minutes old when Martín Demichelis rose to head in an equaliser.
Aleksandar Kolarov smacked the post to signal a frantic finale, as Welbeck's debut was almost ruined by Laurent Koscielny's flirtation with disaster as he bundled the ball onto Wojciech Szczęsny's post and Nasri was denied a winner by the linesman's flag.
Popular in the Community