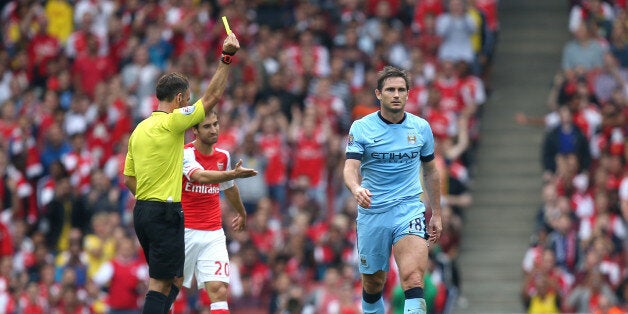 Pellegrini was irked by Clattenburg's failure to reward City a free-kick in the build-up to Jack Wilshere's equaliser after Laurent Koscielny dispossessed Sergio Agüero in the middle third, and the Chilean also claimed Danny Welbeck had illegally nudged Vincent Kompany in the back seconds before Alexis Sánchez volleyed Arsenal ahead.
With City 1-0 up, Jack Wilshere was not penalised for handball inside his own box, which also enraged Pellegrini.
"The first goal was unbelievable. The referee didn't want to whistle," Pellegrini said. "And there was a clear penalty, Wilshere in front of the box, a clear penalty. I don't think this penalty was more clear than Skrtel and Liverpool."
Clattenburg officiated City's 3-2 defeat at Liverpool in April when Edin Džeko was denied a penalty and Luis Suárez escaped a second yellow card for simulation. Five months on, Pellegrini referred to Martin Skrtel's stoppage-time handball inside his own area during that clash.
"No, I don't have a problem," Pellegrini responded when asked about Clattenburg. "He had a very bad day against Liverpool and today. Arsenal scored both goals from fouls. Of course I'm disappointed with the way we conceded the goals, they were two clear fouls."
Kompany didn't complain about after Sánchez's strike however Pellegrini hauled Agüero off out of fear he would be sent off, having received a yellow card seconds after Wilshere had levelled.
"Sergio Agüero, I was sure, that in the next play he would be sent off, that's why I changed. The referee kept giving yellow cards and the next would be a red card. Sergio was very angry because there were two or three fouls but it continued."
The usually placid Pellegrini's other memorable outburst was over referee Jonas Eriksson's performance following City's 2-0 defeat to Barcelona in the Champions League in February. Arsenal manager Arsène Wenger shrugged off the City manager's complaints and accused the visitors of "systematically fouling" Arsenal as they attempted to launch counter-attacks.
"Both managers were frustrated," Wenger said. "Pellegrini was not happy with some decisions of the referee. I must say in the first-half they stopped us from going out on the break by systematically fouling. Even if the referee gave a foul the yellow card came too late, in my opinion, to be completely satisfied, and get rid of that systematic fouling that stopped our game, because we had great pace in our game today and they stopped that in an intentional way.
"It was not an easy game to referee, as well. There were situations where there was a real fight for the ball and we maybe fouled and they maybe fouled and we made one again and they made one again, and the guy came out with the ball and the referee decided to let it go. I don't think it was a vicious game, just a committed one."
Popular in the Community