Breast Cancer Campaign is a breast cancer charity with a clear, single-minded focus: to fund breast cancer research in order to make a difference to people affected by breast cancer and help ensure that by 2050, this disease can be overcome and outlived.
Breast cancer still claims the lives of 1,000 women in the UK every month and Breast Cancer Campaign's fundraising efforts are all geared towards funding world-class research in the UK and Ireland.
Since its inception, the charity has invested more than £60 million in research at universities, medical schools and research institutes. Thanks to research like this, more people are surviving breast cancer than ever before and over 80% of women with breast cancer are still alive five years after diagnosis.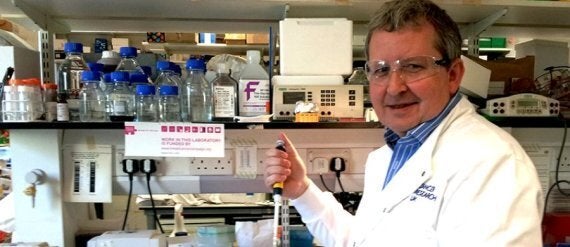 As of September 2014, the charity is investing nearly £14 million in 82 research projects in 33 centres of excellence across the UK and Ireland. Each penny raised goes towards paying for new research to developing new treatments, detect breast cancer earlier, and support people with the disease.
In the next decade, Breast Cancer Campaign hopes to make significant breakthroughs in breast cancer: more precisely predicting breast cancer risk (preventing up to 20% of all breast cancers), catching over 60% of breast cancers before they are symptomatic, personalising and improving treatments to reduce breast cancer mortality by half, helping to eliminate the likelihood of developing secondary breast cancer by 25% and creating a cohesive and collaborative support network for supporting breast cancer research across the UK.
There are myriad ways to get involved with Breast Cancer Campaign, from signing a petition to help unlock lifesaving cancer drugs to getting out your favourite pink clothing for this year's wear it pink on Friday, October 24th, an annual charity event that brings people together across the UK and raised a whopping £2.1 million last year.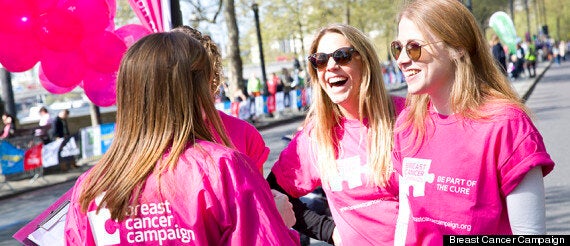 Wear it pink is a fun and fashionable way to socialise, earn money for the cause and save lives by continuing to support Breast Cancer Campaign's work. It's easy to get involved (host a karaoke night at the office, get your friends over for a pampering session or have everyone at school wear a pink accessory on the day) and is a great way to look good while doing good.
Text HUFF to 70660 to donate £3 to beat breast cancer
Texts cost £3 plus network charge. Breast Cancer Campaign receives 100% of your donation. Obtain bill payer's permission. By using this service, you agree that we may contact you in future. If you'd rather we didn't, text NOCALL to 70004. Customer Care 020 7749 4114. Registered charity no. 299758.