A student from Anglia Ruskin University bagged herself a £20,000 bursary after wining the biggest student art prize in the UK.
Ramona Zoladek, who will graduate from her BA (Hons) fine art course next month, was awarded the prize after claiming the Woon Art Prize, which is sponsored by Northumbria University law graduate Mr Wee Teng Woon. The combined £40,000 competition prize is the same as Britain's biggest art award, the Turner Prize.
The success caps a remarkable summer for the 27-year-old, who also landed the £2,000 Dr Supanee Gazeley Fine Art Prize in June, which is awarded to the best fine art work on display at the annual degree show at Anglia Ruskin University.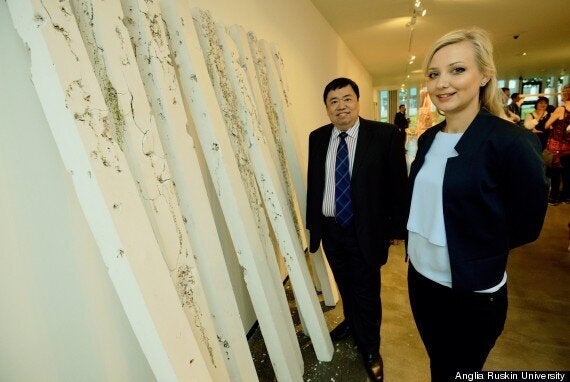 Ramona with her sculpture and Mr Woon
Ramona, who is originally from Poland, described her win as being like a dream.
"I can't believe it! I feel very lucky to be chosen. I never expected to be shortlisted, let alone win! It's the most amazing thing that could happen to me. I can now fully dedicate my time to working in the studio and not worrying about funding for materials. This is a dream for any artist.
"It will be a great start to my artistic career. Hopefully I will develop my practice and build a professional portfolio and profile. The overall experience will give me confidence. I want to focus more than ever on my practice, keep developing, and get the most out of this opportunity. I hope to exhibit as much as I can."
Her winning work revolves around the idea of growth and ruin, and how man-made objects interact with nature. Ramona's piece is composed of concrete and plaster planks from which living plants break out and grow.
Ramona beat competition from nine other shortlisted artists to take the top prize, the Woon Tai Jee Fellowship. In addition to her £20,000 bursary, Ramona will have use of the Woon Tai Jee studio space in the BxNU Institute of Contemporary Art at BALTIC 39 and mentoring from BALTIC Professor and Turner Prize-nominated artist Christine Borland.
The second prize, worth £9,000, named after Mr Woon's late mother Lim Ai Fang, was awarded to Emilie Atkinson, Slade School of Fine Art, University College London. The £6,000 Cheong Kam Hee Art Prize, named after Mr Woon's father's late second wife was presented to Sam Baker, Kingston University. The competition judges split an additional consolation prize of £5,000 between two artists: Catherine Ross, Gray's School of Art, Robert Gordon University, and Eleni Odysseos, University of Leeds.
Chris Owen, Head of the Cambridge School of Art at Anglia Ruskin, said: "We are delighted that Ramona has won such a prestigious international award It is extremely well deserved. She worked incredibly hard on her course, and her sculpture demonstrates a very innovative approach to the use of organic and man-made materials.
"Ramona is an extremely promising young artist, and I am sure that she will follow in the footsteps of many other graduates of Cambridge School of Art, and go on to enjoy a very successful career in the international art community."