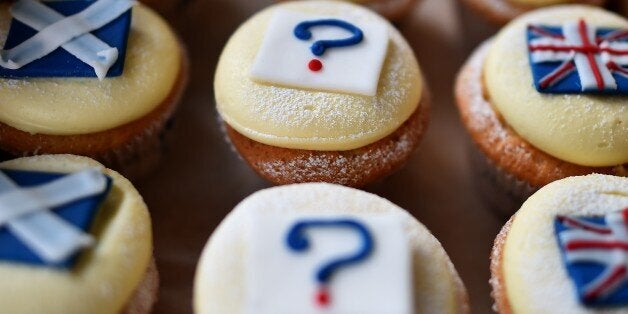 Because Scotland, we would be sorry to see your foodie heritage go.
As a rule meals tend to be heavy and nourishing - designed to give as much energy as possible. But what we really love are the locally-produced specialities (and no, we're not talking about fried Mars bars).
Thanks to all our Twitter followers who suggested the below. Got anything to add? Tell us in the comments!
Stovies (made with corned beef)
Much like the English Bubble and Squeak recipe, Stovies is a potato-based dish which is traditionally made from leftovers.
Potatoes are usually combined with carrots, onions and a leftover meat. On Twitter, Baxter Tocher recommended we try Stovies made with corned beef.
In Scots, "stove" means "to stew" - it is thought this is where the dish gets its name.
This hearty breakfast is usually made by combining oats, double cream, milk, brown sugar, honey and of course, a dash of whisky.
The Scots have been enjoying porridge for centuries and even created a kitchen tool named a spurtle, which is used to prevent the porridge from becoming lumpy.
You'll want a Gamrie Knottie on a cold day, dunked in tea – it's a ginger biscuit with a crisp sugary coating. Sadly Murray Brothers which made them closed down in 2007, but there's a recipe in Great British Bakes if you want to recreate it.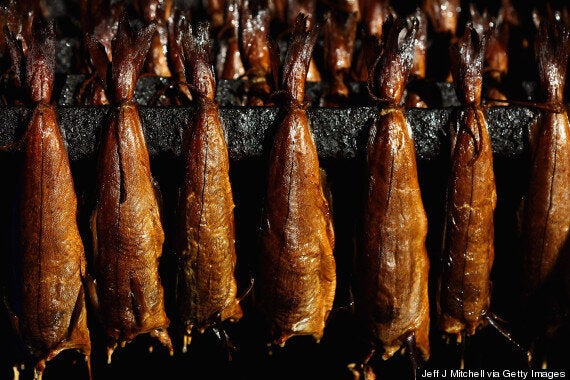 In small fishing houses in the east coast town of Arbroath, rows of fat, creamy haddock hang, being smoked into a dark copper colour. It's a protected food item, and is smoked over an oak wood fire.
A sweet treat to pop into your mouth, Mealie Candy is made with oatmeal, treacle toffee and ginger.
Alright, so Scotland doesn't have the monopoly on black pudding (served alongside everything from breakfast to dinner) but arguably one of the best - according to The Guardian's Jeremy Lee - hails from Stornoway. He says: "(This) black pudding made in the capital of the Outer Hebrides is as good as the esteemed Morcilla of Spain and the equally well-regarded Boudin Noir of France."
For black pudding virgins, it's made from suet, oats, blood, barley and a special blend of spices.
Haggis, Neeps and Tatties
"Great chieftain of the sausage race!" said Robert Burns in his Address to a Haggis, the poem about, well, haggis. While it has possibly the most disgusting list of ingredients that read like a joke from a Roald Dahl book - minced offal of a sheep, pig or cow mixed with suet, onions, oatmeal, spices and seasoning - it is absolutely delicious. Especially since more synthetic casings are used rather than it traditionally being boiled in the stomach of a sheep. Neeps and tatties are swedes and potatoes mashed up together.
These days, you can even get haggis burgers, nuggets - heck, even pakoras.
New Potatoes Sprinkled With Oats
Used as a way to liven up your bog standard potato, this recipe includes boiling potatoes, coating them in butter then covering them in toasting oats while they're still hot.
Scotland is famous for pies and the Forfar Bridie is one of its most popular. The pies look similar to a Cornish pasty and contain meat and vegetables but traditionally, no potatoes.
Forfar Bridie's are said to have first been made by a travelling food seller called Maggie Bridie from Glamis in the days when the county of Angus was called Forfarshire.
Traditionally a 'working man's' food because they are so filling, they're not called butteries for nothing – these bad boys have a lot of lard. They look like flat croissants but are a bit saltier and – if you can believe it - more buttery. If you really want to say to hell with the calories, add jam.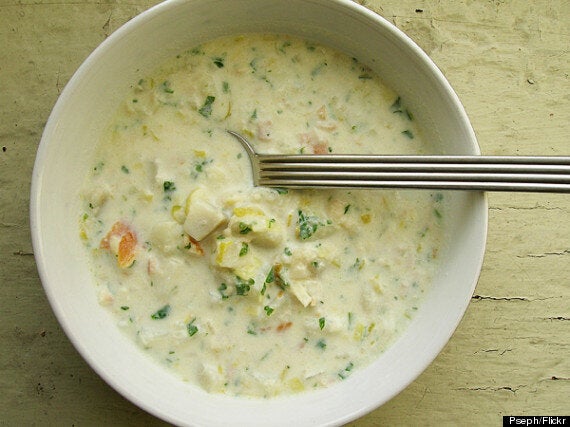 Cullen skink is a classic smoked fish soup. The thick soup is traditionally made from haddock, potatoes and onions.
It is believed the soup originated in Cullen, a village on the Moray Firth in north east Scotland. The word "skink" means "soup made from shin of beef" in Scots.
The sweet biscuit we now hoover down en masse all over the UK originated in Scotland. It's usually made from a basic white sugar, butter and. flour recipe.
Cloutie (or clootie) Dumpling
This spiced-fruit suet pudding is often served with whisky custard as a dessert. The pudding is traditionally cooked by wrapping it in a cloth and simmering it in water. "Clootie" means "cloth" in Scots.