Chris Martin and Jennifer Lawrence have been spotted together for the first time since it was first rumoured they were dating.
And by "together" we mean "in the same room", but that's definitely still enough to get us excited.
It was first claimed last month that the Coldplay frontman was dating Jennifer - after splitting up with Gwyneth Paltrow, his wife of over a decade, earlier this year - and now they've been photographed together for the first time, at the iHeartRadio Music Festival in Los Angeles.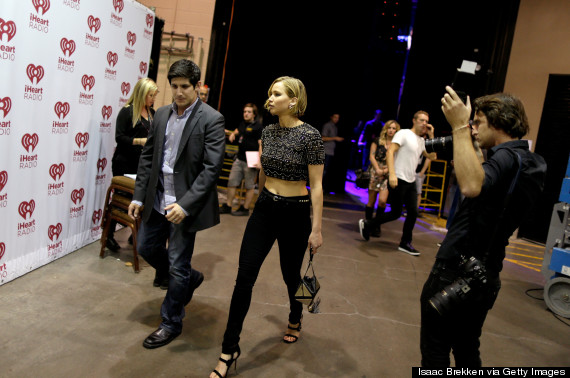 Chris and Jennifer were both at the iHeartRadio festival this weekend
Other photographs taken this weekend show the pair at an airport stepping off a private jet, having flown into LA together.
Last week J-Law was spotted leaving a Coldplay concert at a California hotel, trying to obscure her face with her hand-bag to stop the paparazzi outside taking her photograph.
A source told Us Weekly that the frontman had spent the concert singing to the Oscar-winning actress, explaining: "Chris gave a good look around the room and then spotted someone up on the balcony. He pointed and said 'Aha! I see you!' and then smiled and waved. He kept looking up in the direction during the show and smiling, pointing, singing to her."
Chris and Gwyneth announced their split back in March, through a blog post on her lifestyle website Goop where they referred to the breakdown of their relationship as a 'conscious uncoupling'.
Jennifer has previously been in an on-off relationship with 'Skins' actor Nicholas Hoult, though it was reported back in August that the pair had ended their Transatlantic relationship due to their "difficult schedules".
LIKE US ON FACEBOOK | FOLLOW US ON TWITTER