The news that Jason Orange has quit Take That will obviously have some devastated fans reaching for their smelling salts and waiting for the yet-to-be-provided helpline, but for the rest of you, there's surely only one thing to do... take to Twitter and come up with the best pun-tastic gag you can think of.
SEE ALSO: Hot-Line To Be Created For 30 And 40-Something Women To Help Deal With Jason Orange's Exit
Jason announced his decision last night on the band's website, saying it was something he had been thinking about for a while, since the group's last album and tour alongside Robbie Williams.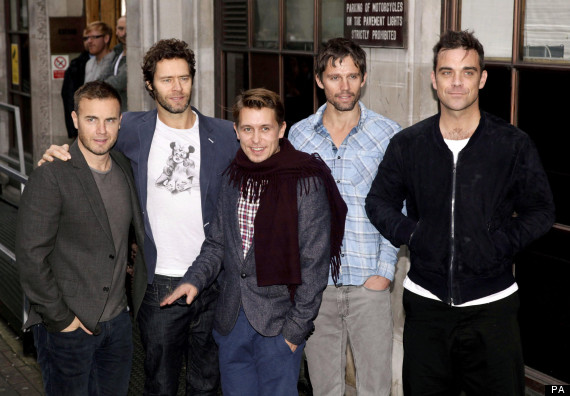 Take That, back in the day...
The remaining three - Gary Barlow, Howard Donald and Mark Owen - will be continuing as a trio. Robbie Williams has also confirmed he won't be joining them for the next chapter, as he is about to become a father for the second time.
Meanwhile, the world of Twitter digests this sea-change in the best way it knows how... can you do any better than this lot?
To kick us off...
It's a sad day that Jason Orange has left Take That. I think you should all stop taking the pith.

— Twitflup (@Twitflup) September 25, 2014
Oops, political...
Jason orange leaving the current take that line up means they have lost 25% of the band.Gary Barlow will prob claim its only 2%

— Ross Noble (@realrossnoble) September 25, 2014
Spot the pop fan...
Jason Orange leaves Take That. He said it was an experience he'll

*puts on shades*

Never forget.

— Dan Burns (@dnbrns) September 25, 2014
And another...
Since leaving Take That, Jason Orange has already joined and left the Sugababes. Twice.

— cluedont (@cluedont) September 25, 2014
So bad, it's almost good...
There are so many Jason Orange jokes doing the rounds, it's hard to think of anything oranginal

— Eddie Robson (@EddieRobson) September 25, 2014
So last week...
Can't believe Jason Orange left Take That without putting it to a referendum first.

— Dean Burnett (@garwboy) September 25, 2014
Phew, back on message...
There's still time to donate any unwanted Jason Orange jokes. It only takes a minute.

— Jonathan Meres (@JonathanMeres) September 25, 2014
Don't knock a man when he's down...
Jason Orange hasn't left Take That. Gary Barlow's just found a scheme where you only have to declare three quarters of your band.

— David Schneider (@davidschneider) September 25, 2014
Finally, the reigning current fave...
Possible new bands for Jason Orange to join: Squeeze, Pulp, Gladys Knight and the Pips. Hope he plumps for the latter...

— Wobblegob (@skweatherall) September 25, 2014
And just as a postscript...
You lot are really squeezing every last drop out of these Jason Orange gags.

— Tokyo Sexwhale (@tokyo_sexwhale) September 25, 2014
LIKE US ON FACEBOOK | FOLLOW US ON TWITTER