Lindsay Lohan made her West End theatre debut on Wednesday night, treading the boards in a production of 'Speed-the-Plow', though the reaction to the play hasn't exactly been positive.
Numerous reports suggest Lindsay frequently fluffed her lines and was reliant on prompts from offstage.
However, Huff Post UK were present for the opening night, so we can tell you that this was only half true.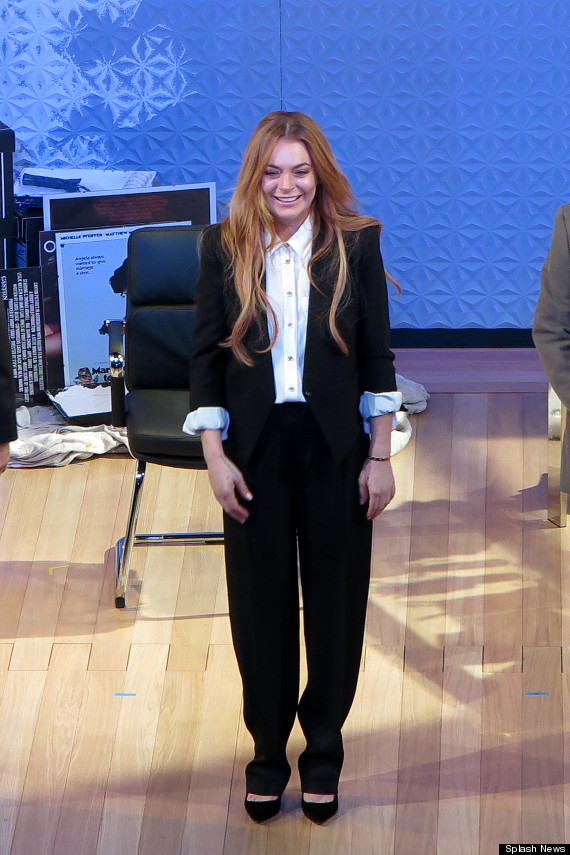 Lindsay seemed pleased with her performance
While Lindsay did need prompting at one point during the show's second act, she jumped straight back into character and continued as if the blip hadn't occurred - which is more than can be said for one of her co-stars.
Lindsay's blip was definitely noticeable, however, it was another member of the cast who really messed up, actually breaking character to ask an off-stage crew member for a prompt, before finishing the scene in a flustered fashion.
It has also been reported that Lindsay was seen reading her lines from a book, to the apparent amusement of the audience, though this was actually part of the script, as her character, Karen, was reading extracts from a novel.
Lindsay's performance divided fans on Twitter, with some praising the star, while others were less than impressed…
Loved love loved #speedtheplow !! @lindsaylohan was superb in the 3rd act! Such an amazing actress!!

— Samuel Ch. Zernig (@SamuelCh) September 24, 2014
.@lindsaylohan laughing every time she forgot her lines was amazing. #speedtheplow #TheLindsayLohanPlay

— Hayley Minn (@hayleyminn) September 24, 2014
Congratulations @lindsaylohan opening night of #speedtheplow all the fear is really only one fear

— Kimberley Smith (@officialkims) September 24, 2014
'Speed The Plow' is currently scheduled to run until 29 November.
LIKE US ON FACEBOOK | FOLLOW US ON TWITTER