It's unlikely that any of the 84,000 fans packed into Wembley Stadium on Sunday night would bat an eyelid were the Oakland Raiders to simply leave head coach Dennis Allen in London tonight, following a 38-14 pasting from the Miami Dolphins.
Midseason sackings, though not uncommon in the Premier League, are rare in the NFL but it is a realistic prospect for Allen, as his team fell to 0-4 on the season. Oakland's defense was porous and their offense turgid, Allen and his staff made no visible adjustments to team strategy either at half-time or during the game, and the team's body language suggested a team who had given up. The Raider ship looked rudderless.
Asked after the game if he saw himself lasting through the Raiders' bye week, Allen told reporters his job security was "not his concern right now", instead he was looking forward to fixing Sunday's problems. However, his demeanour was that of a man struggling for answers to his team's plethora of questions.
"We didn't play as well as we wanted to", said Allen - a definite understatement.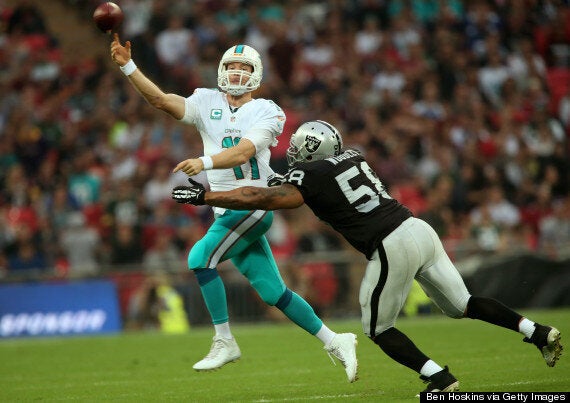 Third-year quarterback Ryan Tannehill impressed in London
For the first quarter - or the first half of it at least - Oakland were competitive. Rookie quarterback Derek Carr made the game look easy on the game's opening possession, leading his team swiftly down the field before finding tight end Brian Leonhardt in the endzone from two yards out. After that? The team struggled in every phase of the game, losing the battle in the trenches, unable to generate any kind of consistent offense, while leaving huge holes for Miami to exploit on the ground and through the air. Carr played bravely and calmly, save one interception from a panicked throw under pressure, before he left in the third quarter with a reported high ankle sprain and knee ligament sprain, with a final line of 16-25, 146 yards, one touchdown and an interception.
Oakland's offensive struggles were compounded by a listless defense. Miami's offense, not living up to the preseason hype under new coordinator Bill Lazor, finally looked close to what was expected this year. Quarterback Ryan Tannehill played one of the best games of his career on Sunday night, throwing for two touchdowns and 278 yards, with one interception before being replaced in the fourth quarter once the game was out of hand.
Tannehill looked comfortable throughout. Through one stretch, the Texas A&M alumnus completed 14 consecutive passes, including two touchdown tosses, as Oakland utterly failed to stop any facet of the Miami attack. Running backs Lamar Miller and Daniel Thomas added a combined 99 yards on the ground on 17 carries, slicing through the core of the Raiders defense with ease.
Led by star left tackle Branden Albert, who stonewalled the talented rookie Khalil Mack all day, Miami's offensive line protected their signal-caller with ease.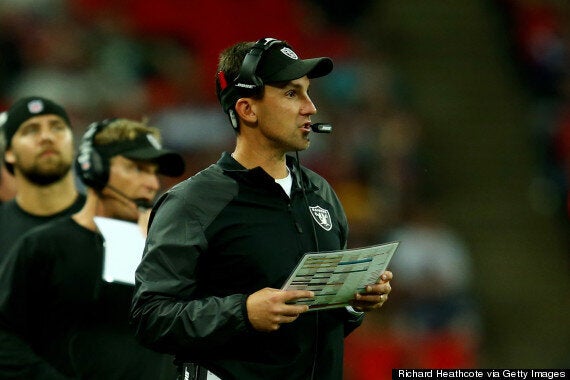 Raiders head coach Dennis Allen's job may be at risk after Sunday's thrashing
The quarterback started brightly out of the gate, delivering a perfect looping throw to wideout Brian Hartline for 25 yards and completing seven of nine for 96 yards in the first quarter. That drive culminated in a Mike Wallace touchdown, earning Miami a 10-7 lead, from which they never looked back.
Were it not for a fumbled punt, Miller fumbling into the endzone and a fluky interception off the hands of tight end Dion Sims, Miami would have won this game by at least five scores.
Carr's replacement, backup Matt McGloin, fared no better. Credit the Miami defense with forcing three turnovers, including a comical botched snap which flew past McGloin, to be scooped up by Miami cornerback Cortland Finnegan and returned 50 yards for a touchdown.
As a scoring-light, mistake-heavy second half dwindled away, and the Raiders committed their fifth turnover of the game, a sack of McGloin on fourth down, one Raiders fan screamed "fire Dennis Allen!" from the stands. He will soon not be the only one.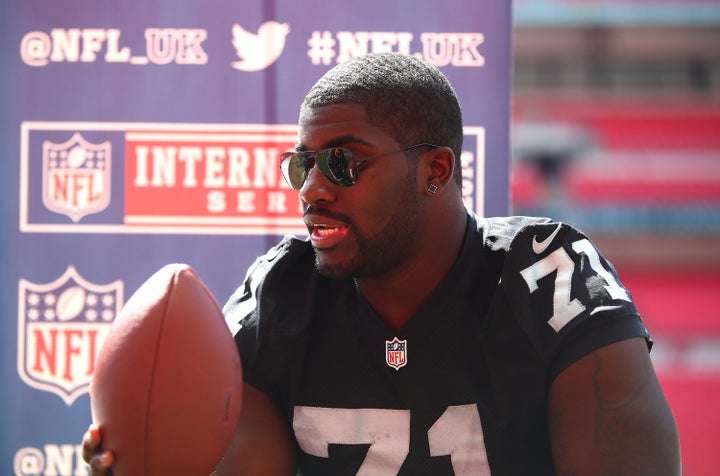 Manchester-born tackle Menelik Watson in London before Sunday's game
In his post-match press conference, Allen was able to point out few bright spots for the Raiders from Sunday's game. The return of British-born tackle Menelik Watson, born in Manchester, was a nice sideshow. Watson stepped in for the injured Khalif Barnes midway through the game and could be set for increased role as the season progresses. He told reporters on Sunday playing at Wembley was "kind of a storybook", but he was taking the season one game at a time and simply focusing on getting better.
Every team which has lost a London game has gone on to have a losing record. Oakland are destined to repeat that, with or without Allen at the helm.
McGloin or the regular backup Matt Schaub, who missed today's game, will have to step in for the injured Carr. Oakland faces a tough stretch over the next six weeks and could easily be 0-10 by the time Carr is able to return to the lineup. Whether his head coach is there when he does is another question.