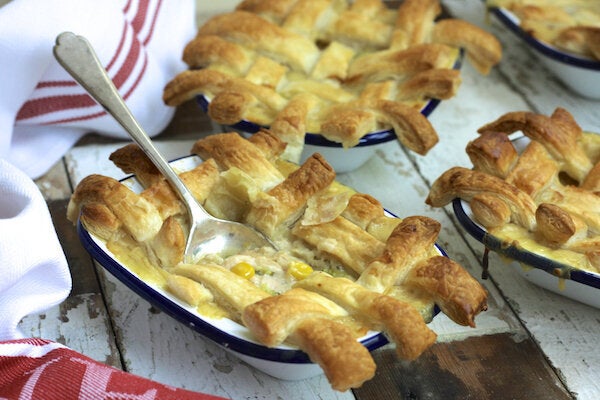 A great way to use up leftover roast chicken, these ultra tasty pot pies have a creamy filling and crisp criss cross pastry crust.
Makes:
4
1 x pack ready rolled puff pastry
250g roast chicken meat, chopped
100g tinned sweetcorn, drained
100g broccoli, cut into tiny florets
1. Take the packet of puff pastry out of fridge, and bring to room temperature while you prepare the pie filling. Pre-heat the oven to 220C/200C fan/gas 7.
2. In a bowl mix the chopped roast chicken meat, sweetcorn, broccoli, lemon zest and mustard.
3. Make the white sauce by melting the butter in a pan over a gentle heat, stir in the flour and crumbled stock cube cooking for a minute then gradually whisk in the milk. If you're using a gel stock pot then add this at the same time as the milk.
4. Stir and cook until thickened. Remove from heat and add the chicken mixture, stirring until well combined. Spoon between pie dishes and then prepare the pastry topper.
5. Unroll the pastry and then measure and cut equal sized strips to fit your mini pie dishes. I recommend 2cm thickness and just a few centimetres longer than your pie dish to allow for shrinkage.
6. Lay out the pastry strips in one direction, leaving a little gap in between. Then place the other set of strips in the other direction. Some under, some over, to create the lattice pattern.
7. Brush with a little milk and then pop onto a baking sheet and cook in the oven for 20 mins.
8. Allow to cool a little and then serve with plenty of greens on the side.
Shortcrust pastry also works well, or even a simple layer of mashed potato.
Vegetarians: Swap the chicken for extra vegetables or Quorn pieces, and use vegetable stock for the sauce.