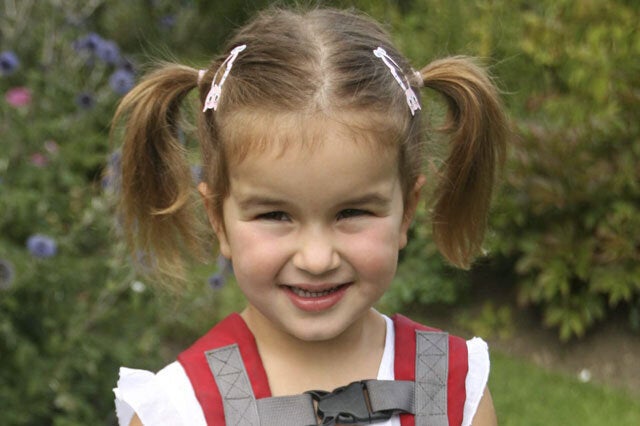 A four-year-old girl with severe allergies stopped breathing and lost consciousnesses on a plane after another passenger opened a packet of nuts, despite three warnings not to do so.
Fae Platten went into anaphylactic shock on a Ryanair flight to Stansted on August 5, when a man seated four rows away opened a packet of nuts.
Fae was flying home from a family holiday in Tenerife with her mum Katy, dad Dean, and six-year-old sister Izzy, when the incident occured.
Katy, 30, from Essex, had alerted the flight attendants to her daughter's allergy, which is so severe that she suffers a reaction if she is in the same room as an open bag of nuts.
No nuts were sold during the flight, and the staff informed all passengers that they must not eat nuts on the plane.
They were warned twice as they were boarding the plane and once again when the food trolley was offered.
But despite the warnings, just 20 minutes into the flight, Fae turned to Katy and said: 'Mummy, my face hurts.'
"She started scratching her checks so I took her to the front and said 'I think somebody has opened nuts,'" said Katy. "He was incredibly selfish."
The air cabin crew gave Fae a flannel and some ice to ease her itching, but her tongue began to swell, her lips became blistered and her breathing began to deteriorate.
"For a few moments Fae stopped breathing," said Katy. "Her airway was compromised and she was unconscious."
Cabin crew asked if any passengers were medically trained, and a nurse and an ambulance driver came forward and offered to inject Fae with her Jext 'epi' pen.
The injection revived Fae and once the plane landed she was taken by ambulance to Broomfield Hospital in Essex.
Fae was released from hospital late last Tuesday (Aug 5).
The next day Katy shared a message on Facebook, which she hoped would warn future air passengers of the very real dangers of opening a packet of nuts in the company of someone who has severe allergies.
"Please I beg you, take note when they say do not eat nuts as people on board are allergic," she wrote.
"DO NOT Take their life into your own hands. DO NOT open the nuts."
Her status has now been shared more than 2,000 times.
The passenger who opened the nuts has not yet been identified, but a Ryanair spokesperson has said he has been banned from its flights for two years.