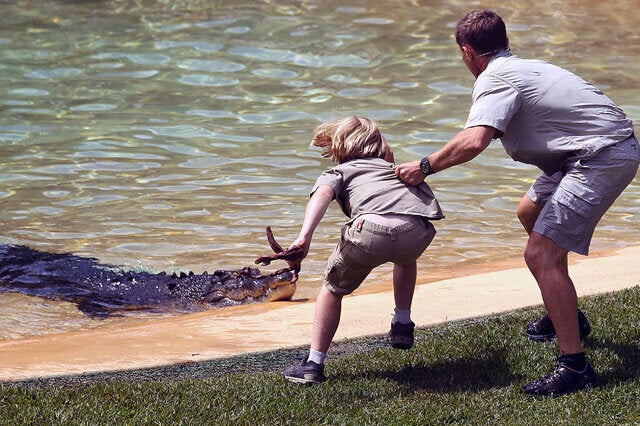 His crocodile hunting dad would be proud of him, and that's a fact. But these photos of the late Steve Irwin's 10-year-old son Robert going face-to-face with a very hungry croc make us a bit, well, scared.
OK, we know he's been brought up in a zoo filled with dangerous animals, and without a doubt, he's been well drilled about safety.
But even so, we can't stop the word 'reckless' flashing through our minds like an ambulance's lights.
But who are we to judge? After all, our kids are wrapped so tightly in cotton wool they're barely allowed to climb a tree, so perhaps a confrontation with danger us a good thing? It seems to work for young Robert.
As you can see, he had no fear as he stepped into the crocodile enclosure at his late father's Australia Zoo near Beerwah on Queensland's Sunshine Coast.
Robert was feeding the crocodile in front a packed crowd for the zoo's daily feeding show at the Crocoseum when the animal's patience seemed to run out.
A witness told the Mail: "I've seen him feed the crocs a few times, but I've never seen him get that close before.
"I think Bob was holding the meat where the crocodile couldn't actually see it, so I think its patience was running out. I guess he'll know to throw the meat where it can be seen next time."
Photos of the moment show handler and Steve's best friend, Wes Mannion, grabbing hold of Robert's shirt as they inched closer to the crocodile.
The onlooker said: "They're dangerous creatures (and) are unpredictable. I'm guessing that's why Wes was holding him tight."
The photos were taken at the same reptile enclosure that Bob's dad controversially carried him into in 2004 when he was just a baby as a ravenous crocodile was waiting to be fed.
A spokeswoman from Australia Zoo told the Mail: "We're all really proud of how well Robert is doing during our Wildlife Warriors show."