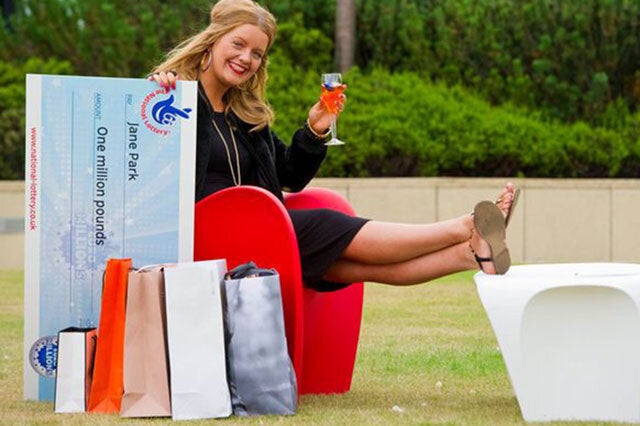 What would you do if you won the lottery? Quit your job? Move house? Travel the world? Well, teenager Jane Park won £1 million - and did pretty much nothing!
Jane, 18, from Edinburgh, won the EuroMillions Millionaire Raffle a year ago – but she says the win hasn't changed her life. She still lives with her mum in a two-bed flat and eats at McDonald's.
Jane was just 17 when she hit the jackpot in July last year with the first ticket she bought.
As she was presented with her cheque, she announced her immediate plans were to buy a white Range Rover, go on holiday to Ibiza with her friends and buy a season ticket for her favourite football team Hibs.
But she hasn't done any of that. Jane, from Edinburgh, told the Mirror: "Maybe I'm not your typical sort of lottery winner as I hate shopping and I don't like going on holiday to five-star hotels.
"I am having fun and it's good knowing that I have money and can do whatever I want to do.
"My trouble is I just need to work out what it is I want to do."
In fact, Jane's only indulgence has been to splash out on a boob job and build up a collection of designer handbags.
She said: "I got my boobs done a couple of weeks ago, which is something I always said I would do if I ever had the money.
"And the one thing I do like shopping for is designer bags. I must have about 50 – everything from Louise Vuitoon and Michael Kors to Chanel.
"But they are so nice that when I'm going out, I'm scared I'll drop and ruin them so I don't take them on nights out."
She added: "I've bought a few pairs of nice earrings. I've been to Magaluf a few times, took my mum to Benidorm and I've had some weekends away with my pals to Newcastle, Aberdeen and Glasgow.
"I had a nice party for my 18th birthday at Hibernian Football Club and I've given a bit of money to my family. I don't really splash out on fancy meals – although at the end of a night out I might buy everyone a McDonald's.
"And I don't even buy nice things at the supermarket as my mum does all the cooking and food shopping.
"If I spend it all, I spend it all – but I'm not anywhere near that. Some of it is put away where I can't use it and some I can dip into when I want."
At the time of her lottery win, she was working as an assistant with the Scottish Council for Voluntary Organisations.
She hasn't worked since her short-term contract with the SCVO ran out just a few weeks after her win. But she is now planning to focus on her career.
She said: "I'm probably going to go to work soon because I'm bored sitting about the house but I don't really know what I want to do."