One Direction fans have turned on Hayley Williams of Paramore, after she accused the boyband of plagiarising her boyfriend's group on their new single.
This week the boys premiered their new track 'Steal My Girl' - which will act as lead single from their imaginatively titled fourth album 'FOUR' - and while it's received a predictably warm welcome from Directioners online, Hayley has been less complimentary about the lads' latest release.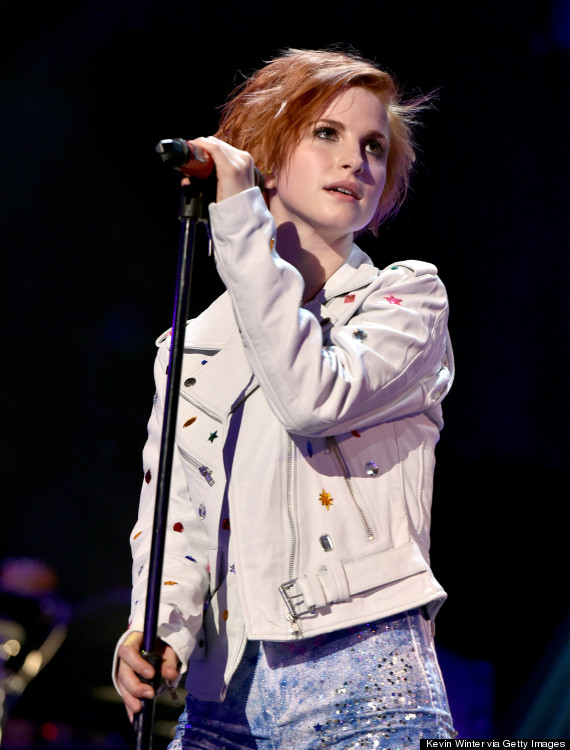 Hayley Williams of Paramore
The Paramore frontwoman was perturbed to notice the song's introduction bore a striking resemblance to a guitar riff played by her boyfriend, New Found Glory guitarist Chad Gilbert, and vented her frustrations on Twitter, writing:
Beginning of that new 1D song couldn't sound any more like the beginning of @newfoundglory's "its not your fault" but pic.twitter.com/UFlFjImxrK

— hayley from Paramore (@yelyahwilliams) September 29, 2014
Perhaps unsurprisingly, the band's die-hard fans were not exactly thrilled to hear her criticism, and fired back in their droves...
@yelyahwilliams who are you again?:/

— kat (@cutestzjm) September 29, 2014
@yelyahwilliams i just wore a paramore shirt yesterday and i'm dragging it out of the dirty hamper just to burn it

— jackie (@hoosierliam) September 29, 2014
louis could buy hayley williams

— king louis (@leedsparadise) September 29, 2014
Hayley has since defended herself, claiming she didn't mean any offence to One Direction themselves, and was more upset with "whoever pitched or co-wrote the song".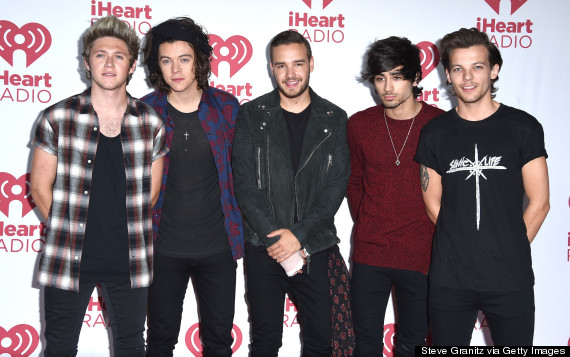 One Direction. Obviously
Meanwhile, other Twitter users have now gone a step further and accused Hayley of being a hypocrite, with some online critics saying that the New Found Glory track she's referring to sounds an awful lot like 'Faithfully' by Journey...
New found glory is all 'waaahh 1D stole a cord progression from us' which would be fair enough if Journey didn't write it first?

— Arni Marie (@arnii) October 1, 2014
I got love for Hayley Williams but I'm pretty sure both one direction and new found glory's song sound a lot like faithfully by journey so..

— Brooke Kaefer (@bakaefer) September 30, 2014
AND if hayley williams was that musically knowledgable she woulD REALIZE THAT new found glory copied Journey in that song so 👀😴

— louis!! (@daddylouist) September 29, 2014
But it sounds more like Journey's song than that New Found Glory one lol I'm surprised she didn't make that connection its more obvs

— kassy εїз (@narryamor) September 29, 2014
Oh dear.
This isn't the first time One Direction's songs have provoked debate over their riffs, with the introduction to 'Live While We're Young' being heavily criticised for its striking resemblance to The Clash's 'Should I Stay Or Should I Go'.
Similarly, when 'Best Song Ever' first debuted last year, its introduction was compared to The Who's track 'Baba O'Riley'.
In case you want to make your own judgment about whether or not the new One Direction single is a rip-off of New Found Glory, then you can listen to 'Steal My Girl' below:
And here's the video for 'It's Not Your Fault':
And finally, in the interest of fairness, have a listen to 'Faithfully' here:
'Steal My Girl' will be available in the UK from 12 October, and will come with a special remix of the song by Liam Payne, dubbed the 'Big Payno & Afterhrs Pool Party Remix', as its B-side.
LIKE US ON FACEBOOK | FOLLOW US ON TWITTER