We always knew there was something a bit special about Abbey Clancy, and it seems we're not the only one as she's been immortalised as a superhero for a new Children In Need campaign.
The former 'Strictly Come Dancing' champion has been re-imagined as #BEARFACE, as part of a drive to get people to raise money for Children In Need by going without makeup and sporting a paw-print on their face instead.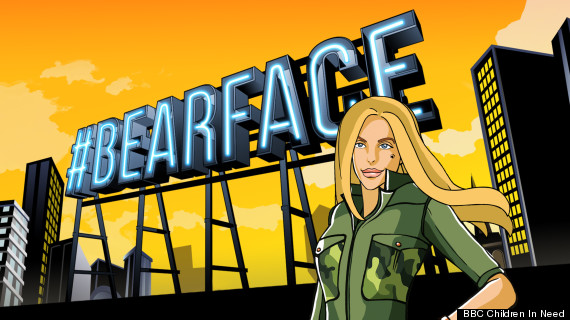 Abbey Clancy as #BEARFACE
Even in cartoon form, Abbey's striking appearance is instantly recognisable, but she isn't the only star to have been turned into a superhero for the new campaign, with Olympic gymnast Louis Smith and 'Great British Bake Off' judge Paul Hollywood also starring in new ads in cartoon form.
Louis' superhero alter-ego is #THECHALLENGER, who encourages people to go above and beyond in the name of charity, while Paul has been recreated as #THEBAKER who, slightly unsurprisingly, is hoping to get people baking in order to raise funds for Children In Need.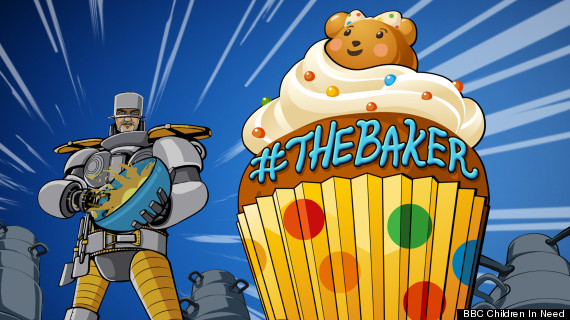 Paul Hollywood as #THEBAKER
Helena Bonham Carter is known for her bold and polarising fashion choices, so it's only fitting that she be rebranded as #CAPTAINCOSTUME, who wants everyone to throw on their best fancy dress ahead of this year's telethon.
Finally, completing the superhero line-up, is the re-imagining of singer Sir Tom Jones, who was confirmed last month to be returning to the 'The Voice UK' as a coach on its fourth series.
Tom, whose career in showbiz now spans decades, is referred to in the campaign as #THEENTERTAINER, a music-loving superhero keen to get everyone performing in the name of Children In Need.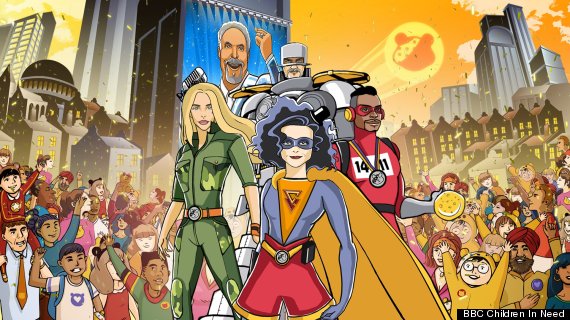 The complete 'Super Star Line-Up'
All five of the famous characters will be appearing in trails which will begin airing on BBC One on Saturday, 4 October ahead of 'Strictly Come Dancing'.
This fundraising idea is decidedly more family-friendly than a campaign Abbey appeared in to raise awareness of breast cancer earlier this week, stripping down to her underwear to promote a special range for Ultimo.
LIKE US ON FACEBOOK | FOLLOW US ON TWITTER