'Coronation Street' fans might have thought that Kylie and David Platt had finally settled down… but things are about to get a whole lot rockier for the young couple, with the arrival of her bad boy ex-boyfriend, who we predict is going to become a hit with female viewers.
In Friday night's show, Kylie's ex, Callum arrives on the scene, who is back to his old ways after having just got out of prison for drug-dealing.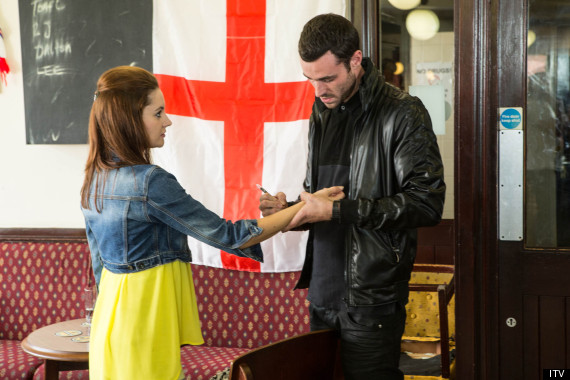 Callum tells Kylie to keep in touch when they meet up to talk about their son, Max
Callum is played by Sean Ward, who admits that he's a slippery character who winds up giving speed to the young mum as a way of controlling her and keeping her around.
He tells The Mirror: "Callum has made his money as a drug dealer and is just got out of jail. He doesn't take drugs himself but he uses them to control the people in his life.
"I don't think he is necessarily happy that he is giving drugs to Kylie, but he sees that is the only way that he can keep her in his life. He hasn't seen her for about five or six years and that is his way of keeping her around."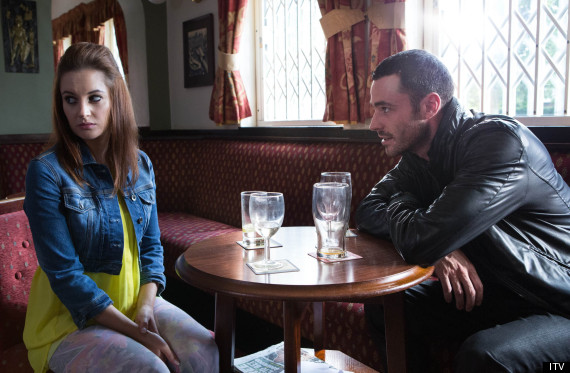 Callum and Kylie
Sean says he's also looking forward to getting the better of Kylie's husband, David, who he reckons needs to be taken down a peg or two, and the fact that he's the biological father of her son, Max, should do the trick.
He adds: "I'm just really enjoying every minute. And we all know that David Platt needs to be put in his place - so I'd like to be the guy to do that!"
Callum's re-introduction into Kylie's life is the latest bump in the road for her turbulent marriage, having only recently reconciled with David after sleeping with his brother, Nick, last Christmas.
Catch his 'Corrie' debut (and get ready to swoon, ladies) at on Friday, 3 October at 7pm on ITV.
LIKE US ON FACEBOOK | FOLLOW US ON TWITTER