Phil And Sharon's 'EastEnders' wedding hasn't exactly been going smoothly and in Friday night's episode, viewers saw Phil gunned down by his ex Shirley Carter.
There's been plenty of drama during the pair's wedding celebrations and - despite everyone's best efforts - things haven't exactly gone to plan.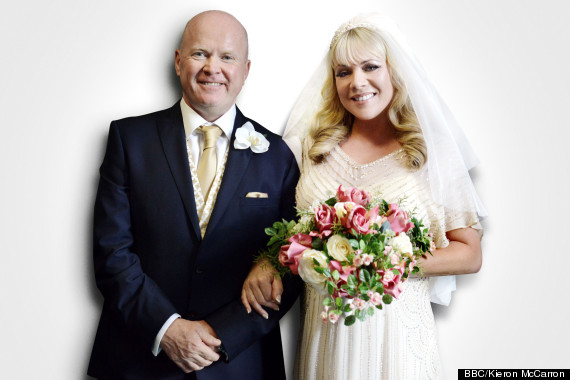 These smiles didn't last long
Viewers have already seen Sharon plotting her escape while Phil chases after her and now, with Shazza's gun in her hand, Shirley goes on the hunt.
After the incident, Shirls is left understandably distraught and believes that she's actually murdered her ex.
After turning to her Aunt for advice, Shirl decides to flee and, on Monday night, Mick tries to hunt down his sister.
While Mick is looking for Shirl, he leaves Linda at the pub to look after Dean, which is when he attacks the Landlady.
In the coming months, the Carter family will be the focus of many huge storylines and they'll also be welcoming two new arrivals.
LIKE US ON FACEBOOK | FOLLOW US ON TWITTER