The people of Eccles, Alan Henning's hometown, have begun laying flowers at his home and workplace, as the country is plunged into grief and anger by news of his death at the hands of Islamic State.
IS, also known as Isil or Isis, released a video on Friday evening that showed the beheading of Mr Henning, 47, a taxi driver and father-of-two who left the northwestern town to deliver aid to the people of Syria.
He was the fourth Westerner murdered by the jihadi group on film in recent weeks, after British aid worker David Haines and US journalists Steven Sotloff and James Foley.
Yellow ribbons were tied in the town after his capture became public and, since his death was confirmed last night, people have been laying flowers at his home, the minicab firm office where he used to work and local landmark the Eccles Cross.
A taxi in the town was seen driving with a yellow ribbon.
Muslims in the nearby Manchester Central Mosque prayed for him.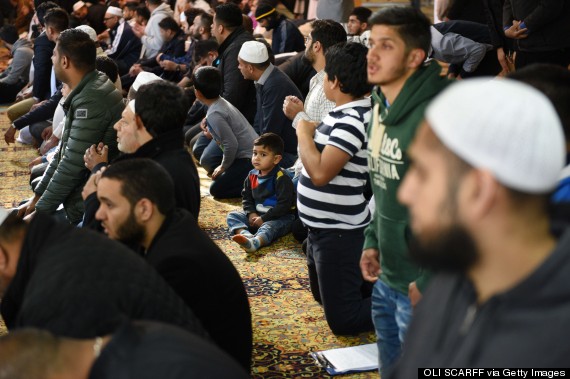 Muslims at Manchester Central Mosque pray for Alan Henning
Barbara Henning, who had pleaded with IS to release her husband, said she was "numb with grief" at "the news we hoped we would never hear".
"Alan, my husband, and father of Lucy and Adam, was kidnapped in Syria in December last year," she said.
"Last night we received news of his murder by Isil. It is the news we hoped we would never hear.
"As a family we are devastated by the news of his death.
SEE ALSO:
"There are few words to describe how we feel at this moment. Myself, Lucy and Adam, and all of Alan's family and friends are numb with grief.
"On behalf of the entire family, I want to thank everyone who campaigned for Alan's release, who held vigils to pray for his safe return, and who condemned those who took him.
"Your efforts were a great support to us, and we take comfort in knowing how many people stood beside us in hoping for the best.
"Alan was a decent, caring human being. His interest was in the welfare of others. He will be remembered for this and we as a family are extremely proud of him and what he achieved and the people he helped.
"We now need time to come to terms with our loss. We would therefore be grateful if our privacy could be respected at this time."
Eccles remembers Alan Henning