Kim Kardashian West (one mustn't forget the "West", you know) has laughed off reports that she "forgot" her daughter, North West, in a hotel earlier this week.
Video footage posted online earlier this week shows the 'Keeping Up With The Kardashians' star leaving a hotel, only to re-enter the building a minute later and then leave holding her baby.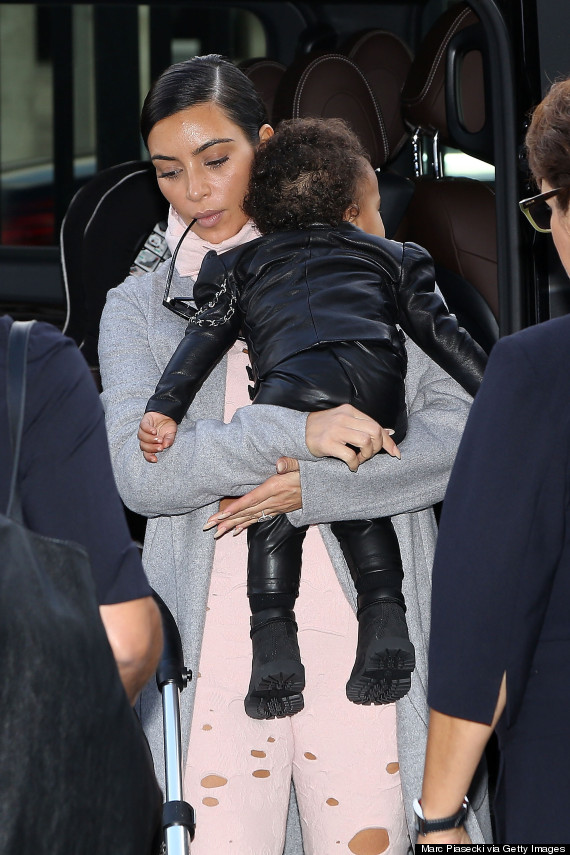 Kim and her baby daughter
This prompted reports that Kim had somehow forgotten about her one-year-old daughter, though she has now taken to her Twitter to pan these reports.
She wrote:
Heard on the radio today some story I forgot my daughter at our hotel as I'm leaving for the airport. Are you kidding me?!?!?! LOL

— Kim Kardashian West (@KimKardashian) October 3, 2014
LOL, indeed. But if she didn't forget her baby, how come she was seen darting back into the hotel so swiftly? Well, let Kim explain:
I went to the car to make sure the car seat was in because the day before we had a car seat issue.

— Kim Kardashian West (@KimKardashian) October 3, 2014
So you see, it was all down to a "car seat issue", rather than Kim absent-mindedly wandering out of a hotel without her infant daughter.
She even joked:
Do u guys really think a 1year old would be inside the lobby by herself!Oh wait she was waiting to check out lol

— Kim Kardashian West (@KimKardashian) October 3, 2014
Watch out Caitlin Moran, someone's coming for your "funny woman on Twitter" throne.
This isn't the first time Kim has had to use social media to defend herself, after she caused a stir earlier this year over comments she made about pregnancy.
During an interview with Elle back in July, Kim - who had a difficult time while carrying her daughter, North - jokingly advised pregnant women: "I recommend hiding for a good year and having no pregnancy style. Never leave the house. That's really my recommendation. Wear a huge blanket."
After, unsurprisingly, coming under fire for her comments, a frustrated Kim lamented on Twitter: "I guess you can't be sarcastic when doing interviews!"
Meanwhile, Kim recently revealed that she and husband Kanye West were hoping to have another child in the near future, to give North a new brother or sister.
Let's just hope when the stork does swing by the Kardashian/West household again, that there are no more pesky "car seat issues"...
LIKE US ON FACEBOOK | FOLLOW US ON TWITTER